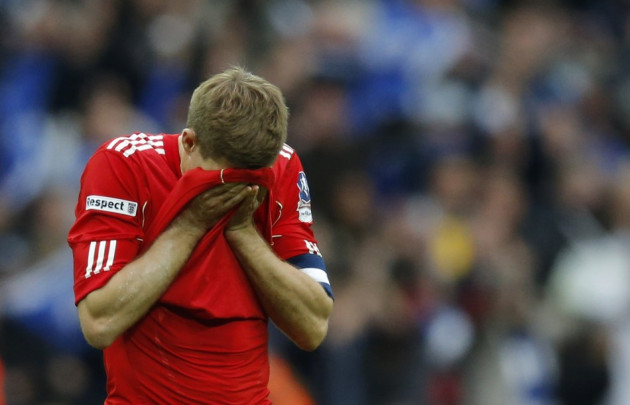 BBC pundit Mark Lawrenson believes Liverpool lost their FA Cup final clash against Chelsea because they lacked a "winning mentality".
Goals from Ramires and Didier Drogba kept Roberto Di Matteo's side on course for a domestic and European cup double. The Reds looked revitalised after Andy Carroll's introduction as a second half substitute but it proved too little too late as the Anfield side failed to secure a second cup trophy.
"Liverpool's problem at Wembley last weekend wasn't so much their talent. It was their mentality," Lawrenson told the Liverpool Echo. "And that has been an issue with many of the new players signed by Kenny Dalglish over the last 18 months.
A year after joining Liverpool, Stewart Downing and Jordan Henderson looked no closer to justifying their huge transfer fees at Wembley on Saturday and Lawrenson cautioned both could have played their last games for the club.
"Saturday could possibly have been the last big game for some of them. One or two seem to think that glorious failure is okay. They are used to that. But that's simply not good enough for Liverpool."
"It's difficult to have a winning mentality. Top players are top players because they usually perform in big games, stick out their chest, say 'this is what I'm here for' and raise their performance.
"Too often this season, if Luis Suarez and Steven Gerrard aren't doing anything, then the rest are happy to shy away from the limelight.
"They don't want to seize the day. In fact, I can't remember when Stewart Downing, Charlie Adam or Jordan Henderson has taken a game by the scruff of the neck in that manner."
Nevertheless, Tuesday's emphatic 4-1 victory over the same opponents at Anfield saw Downing and Henderson combine impressively with a rejuvenated Andy Carroll. Henderson notched only his second Liverpool goal, while Downing was unlucky not to score after hitting both the post and the crossbar. Dalglish said: "The two young lads, Shelvey [20] and Henderson [21], in the middle of the pitch were fantastic with the work-rate they got through and both of them scored too.
And Lawrenson insists Carroll's recent run of form provides the perfect example for those players currently under scrutiny. The last couple of months have seen a noticeable improvement in the 23-year-old's performances and, with three goals in his last six appearances, the striker has begun to show signs he can repay the £35m invested in him 16 months ago.
"Perceptions can change quickly. Look at Andy Carroll," added Lawrenson. "A few months ago, people were saying he'd never make it at Liverpool. Now it's clear there is something there that Liverpool can work on and try to get the best from.
"Carroll has proven he has what it takes on the big stage. He has that belief.
"Liverpool didn't play on Saturday until Carroll scored. It was all curiously flat, Liverpool just didn't get going, but when they did they made Chelsea seem vulnerable."