US stocks dipped as fears increased that the strong dollar and lower oil prices will hurt American first-quarter earnings.
The Dow Jones industrial average fell 80.61 points, or 0.45%, to 17,977.04; the S&P 500 dropped 9.63 points, or 0.46%, to 2,092.43, and the Nasdaq Composite eased 7.73 points, or 0.15%, to 4,988.25.
However, the Nasdaq briefly traded above 5,000, within 110 points of its all-time intraday high.
Nine of the 10 S&P 500 sectors fell, led by a 1.1% decline in S&P industrials. Shares of General Electric Co dropped 3.1%to $27.63 after rallying on Friday, when the company said it may return more than $90bn to investors through 2018. Shares of 3M Co were down 0.7% at $165.84.
The dollar was last up 0.1% against a basket of major currencies after hitting a peak of 99.99, its highest in four weeks. A stronger dollar tends to hurt profits for US multinationals. Crude oil prices edged higher, but their sharp decline since last year has weighed on energy companies' results.
Corporate earnings kick into high gear this week. Estimates for first-quarter S&P 500 results have fallen sharply since 1 January, with earnings for the period expected to have declined 2.9 percent from a year ago, Thomson Reuters data showed.
"There is some trepidation about what the earnings announcements are going to look like, and so investors are cautious," said John Carey, portfolio manager at Pioneer Investment Management in Boston. "Most people are thinking earnings are going to be weak due the strong dollar, lower oil prices and sluggish consumer spending due to the winter weather. But we'll see."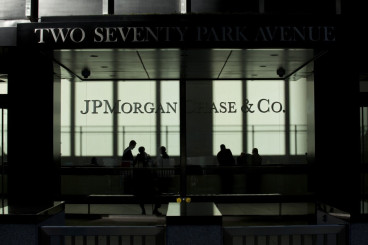 Among the companies expected to report this week are GE, Intel Corp and Johnson & Johnson, whose shares fell 1.5% to $100.55 on Monday. Several big banks, including JPMorgan Chase & Co and Bank of America Corp , also are due to report.
In post-market trading, shares of Norfolk Southern Corp fell 3.8% to $100.94 after the railroad gave a disappointing outlook.
During the regular session, Apple Inc shares dipped 0.2% to $126.85, reversing earlier gains that followed reports the company may have received about an initial million orders for its Apple Watch.
Netflix Inc shares rose 4.4% at $474.68. The video streaming company said it was seeking to increase its share authorisation by nearly 30 times as a possible first step toward a stock split.