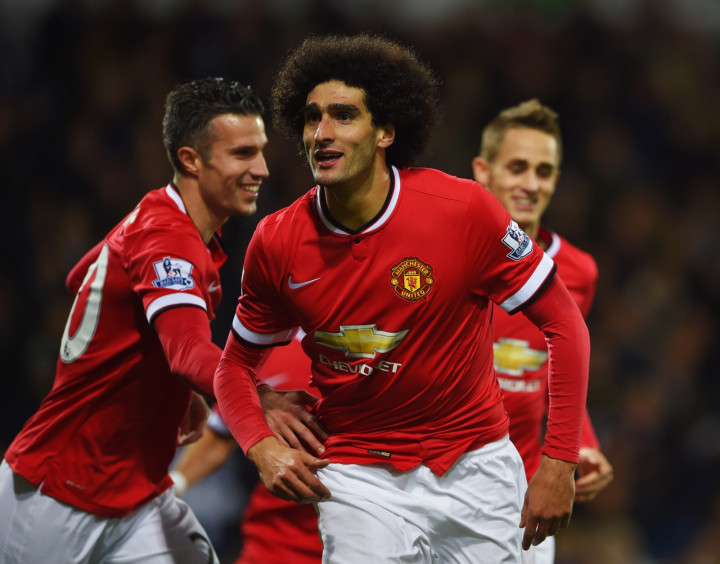 Manchester United midfielder Marouane Fellaini admits the 2-2 draw against West Bromwich Albion on Monday 20 October is a huge blow ahead of the two crucial forthcoming games against Chelsea and Manchester City.
Louis van Gaal's side will host the Premier League leaders on Sunday 26 October before visiting the Etihad Stadium the following week.
After their latest set-back against West Brom, United are sixth in the table, 10 points behind Jose Mourinho's Chelsea side and five off their neighbours.
Although the Belgium international scored his first Premier League goal for the club since his arrival under David Moyes in summer 2013, he was frustrated with the result.
"It was my first goal this season and for Manchester United as well, so it was good for me. But the result was a disappointment because our two next games are very difficult games. For the confidence, it is not so good," Fellaini said to Manchester United's official website.
"I have to put pressure [on the opposition] and go into the box. I did that and I scored, so it was good for me and the team. It was a good feeling, I have waited for a long time for this moment and now I have scored, so I hope to score some more goals this season."
The former Everton midfielder has struggled with an injury during the first part of the season but after returning to action with a promising performance against West Brom, replacing Ander Herrera in the second half, he is confident on improving his career at Old Trafford under Van Gaal.
Fellaini admitted he has failed to make the impact expected at United since his £27.5 move from Goodison Park but believes his situation can change if Van Gaal keep trusting in him.
"It was very difficult but I work hard every day and I know that when I am 100% fit then I can be dangerous," Fellaini said.
"Football is like this, sometimes you have bad moments and that was one. But I am ready for the challenge and to play every game. I am happy here and the manager has shown trust in me. Every day in training, I work hard and after that the manager makes a decision."