Full time: West Bromwich Albion 2-2 Manchester United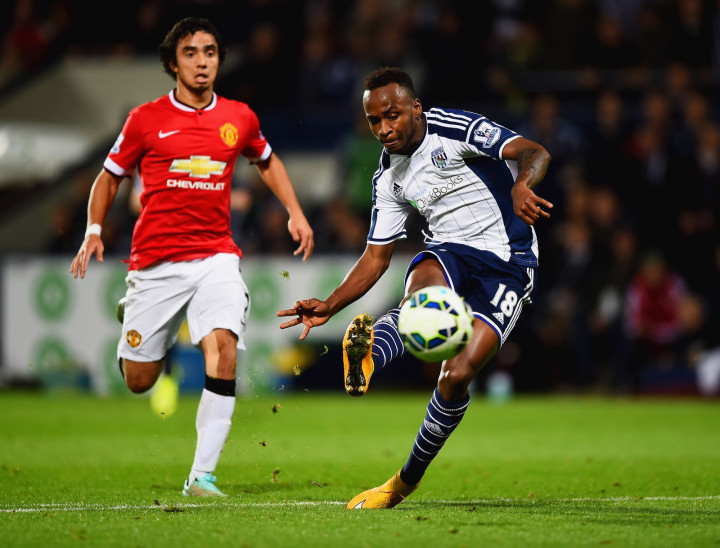 21:50: Daley Blind and Marouane Fellaini's first ever goals for Manchester United help grab a draw and deny West Bromwich Albion a first home win over Louis van Gaal's side in the Premier League.
Stephane Sesssgnon and Saido Berahino twice put West Brom in front but United came back on both occasions, with Blind sweeping home with three minutes remaining. Cruel on the Baggies as United's winless run on the road continues.
Well that's about all we've got time for on this Premier League live text. We're back with coverage from the Champions League on Tuesday and Wednesday but until then, goodbye.
Full time: West Bromwich Albion 2-2 Manchester United
21:50: United piling on the pressure late on....

21:47: Four added minutes at The Hawthorns.

21:45: A goal from an unlikely source looks like breaking West Brom hearts. A ball into the box comes out to Daley Blind who curls around and beyond Myhill to score his first United goal with three minutes left. Can they find a winner?

Goal: West Bromwich Albion 2-2 Manchester United (Daley Blind)

21:42: United running out of ideas as we enter the last five minutes. Fellaini, Falcao and Van Persie filling the attack to the brim yet Boaz Myhill has been untested in the last 20 minutes or so. Can West Brom hold out?

21:38: The away side back into their stride and after Young and Shaw combine Van Persie almost sweeps home. The resulting corner sees Rojo rise highest but only head wide. Entering thee last 10 minutes.

21:33: Now Ashley Young is introduced with a hobbling Angel di Maria going off. A concern with Chelsea coming up on Sunday. The Argentine getting ice on that right thigh.

21:31: Van Persie has dropped into the No.10 role and he almost scores straight away. A ball tossed up towards Falcao breaks for the Nethrlands captain his takes one touch to control and a second to thump towards goal only for the ball to rebound off the post.

21:29: Radamel Falcao on and Juan Mata off for United with 18 minutes remaining. West Brom can expect an onslaught in the closing minutes here. A free-kick is looped into the box and after Januzaj heads on Pocognoli handles in the area but referee Dean isn't interested.

21:24: West Brom have weathered the storm and they're back in front at The Hawthorns. Phil Jones is drgaged out of position and Chris Brunt threads the ball through to Berahino who takes aim and curls beyond David de Gea. Berahino scored the winner at Old Trafford last season and with less than a quarter of the game remaining just netter the pivotal goal tonight?

Goal: West Bromwich Albion 2-1 Manchester United (Saido Berahino)

21:21: Should West Brom have had a penalty? Blind trips Berahino, who stays on his feet but stumbles as he keeps hold of possession. Mike Dean waves away appeals from the crowd mainly. Di Maria rubs his thigh in pain on the far touchline, could he be about to come off?

21:13: West Brom offering very little now and they're being swamped by United pressure early in this second half. That Fellaini goal has really put the cat among the pigeons and you fancy a second isn't far away. Mata has pushed further forward while Di Maria has pulled onto the left. From the right however Rafael cross into the six yard area but no one is on hand to finish.

21:10: Slightly premature from West Brom's social media manager....

21:06: Two and a half minutes after coming on and Marouane Fellaini draws Manchester United level. A high, hanging cross sees Fellaini out-muscle Lescott off the ball but despite still having plenty to do the Belgian gets the ball down and lashes it past Myhill. His first goal for United and what a time to get it you might say.

Goal: West Bromwich Albion 1-1 Manchester United (Marouane Fellaini)

21:01: So can United end their wretched away form and turn things around in this second half? Marouane Felliani is the first man charged with turning things around and has replaced Ander Herrera. Second half now under way.

20:47: Stephane Sessegnon's tremendous early strike has West Brom threatening to beat Manchester United for the first time in the Premier League at The Hawthorns. The Baggies have been lively and committed while United dreamy attacking ranks have been kept quiet for long periods. Saves from Boaz Myhill from Van Persie and Di Maria all the visitors have had to muster.

Half time: West Bromwich Albion 1-0 Manchester United
20:44: Different angle but same result for West Brom from a free-kick of their own as Brunt's cross from the left sees Joleno Lescott head of the bar. How the former Manchester City defender would like to strike a blow to United's hopes here.

20:40: Free-kick, dangerous postion for United after Blind is felled following Dawson goal-line clearance from Van Persie's shot. Mata takes aim but the ball soars into the crowd. Not his best.

20:39: An alternative view on the Van Gaal-Fellaini discussion:

20:37: As a hopeful United cross-field ball ends up in the arms of Boaz Myhill, the camera cuts to Louis van Gaal giving Marouane Fellaini a thorough talking to. Has made just two appearances this season has the Belgian but could he called upon in the second half?

20:33: Now Myhill beats away Di Maria's effort from range. United growing ever-stronger as we go over the half-hour mark.

20:30: Van Persie's cut back almost finds the onrushing Mata as United continue to turn up the heat. West Brom have done well to stem the flow of attacks as the half and gone on and through Berahino and Sessegnon's pace are a threat on the break themselves. Their latest foray into the visitors' half sees Berahino miscontrol a floated ball forward from Brunt.

20:24: West Brom continue to pose a threat on the break and Dorren's cross is just beyond Berahino at the back post. So close to doubling the lead as United continue to look vulnerable.

20:19: United haphazard at the back by threatening going forward, as has been the story for most of the season and Van Persie is almost in but Dawson intercepts. Now a long kick from De Gea finds Di Maria, who control and shoots in the same movement but Myhill makes the save.

20:16: Marcos Rojo was left wanting for Sessegnon's opener and he almost gets caught again as West Brom force a second. A looped ball catches out the Argentine allowing Berahino to pounce and when he is dispossed, Morrison blazes over from 25 yards.

20:11: The visitors almost draw level immediately as Di Maria's through pass finds Van Persie who takes a swipe at the ball and Myhill turns behind the effort.

20:10: United lose possession mid-way through the West Brom half ans they're made to pay. Andre Wisdom drives in behind Di Maria and his pull back from the near touchline finds Sessegnon 20 yards out and he slams the ball beyond David de Gea in emphatic style.

Goal: West Bromwich Albion 1-0 Manchester United (Stephane Sessegnon)

20:05: All West Brom in the early stages. Sessegnon escaps down the right and his but back sees Brunt's shot blocked by Phil Jones. The Baggies continue to build as Di Maria gives the ball away but Berahino can't latch onto Sessegnon's slide through ball.

20:00: We're under way at The Hawthorns.

19:56: Both sets of players are on their way out at The Hawthorns. Packed house in the black country. Kick-off fast approaching.

19:51: You would be forgiven for thinking that Robin van Persie is the striker to watch tonight, but you'd be mistaken. Saido Berahino has five goals this season and four in his last three games. The England Under-21 international in the primary attacking threat for West Brom tonight and his pace and movement makes means he can give the likes of Jones and Rojo real problems.

19:47: Warm-ups well under way at The Hawthorns.

19:41: There has been much debate over systems employed by Louis van Gaal this season, so what can we expect tonight? With the much-fabled back three have been disposed of, United will revert to four at the back with Ander Herrera and Daley Blind screening in front in midfield. Robin van Persie leads the attack with Juan Mata, Adnan Januzaj and Andel di Maria in support.
For West Brom, we have a conventional 4-4-1-1. Craig Gardner, Chris Brunt, James Morrison and Graeme Dorrens form a diamond midfield, with Stephane Sessgnon playing behind Saido Berahino, who scored the winner remember at Old Trafford last season.

19:30: Louis van Gaal is another newby in the Premier League and the Dutchman has already stated this weekend how he has underestimated the challenge of taking over at Old Trafford. Though three wins have come from the last four games cracks have emerged particularly in defence where there have been a myraid of injuries. United are without an away win this season, the last coming at Newcastle United in April.

19:20: Tonight we have two managers who are only seven games into their Premier League careers, and in all honesty it shows. West Brom have won just twice this term, shocking Tottenham and destroying Burnley, with Alan Irvine showing he is very much still learning the ropes at The Hawthorns following his Football League upbringing. Unfortunate against Liverpool three weeks ago, the Scot will be hoping for better against another big-hitter. And if you've forgotten, Irvine worked under former United boss David Moyes for four years either side of spells at Preston North End and Sheffield Wednesday.

19:10: Two changes for West Brom as Ben Foster drops out with a calf problem and is replaced by Boaz Myhill, while Andre Wisdom is also back. Three alterations for United, with two injury victims Phil Jones and Ander Herrera coming back, and Adnan Januzaj earning a first start of the campaign. Michael Carrick and Radamel Falcao are on the bench.

19:03: Team news:

West Bromwich Albion v Manchester United

West Bromwich Albion: Myhill, Wisdom, Lescott, Dawson, Pocognoli, Gardner, Brunt, Morrison, Dorrans, Sessegnon, Berahino

Manchester United: De Gea, Rafael, Jones, Rojo, Shaw, Blind, Herrera, Januzaj, Mata, Di Maria, Van Persie

19:00: Following an enthralling weekend in the Premier League, attention turns to our final game before the return of the Champions League as West Bromwich Albion host Manchester United. Alan Irvine's side have made a stuttering start to the campaign but have won two of their last three while United are seeking a first top flight away win since April in a bid to return to fourth in the table. While the visitors might be unbeaten in eight visits to The Hawthorns, winning seven and drawing once, the pair did draw 5-5 in Sir Alex Ferguson's final game in charge in May 2013.