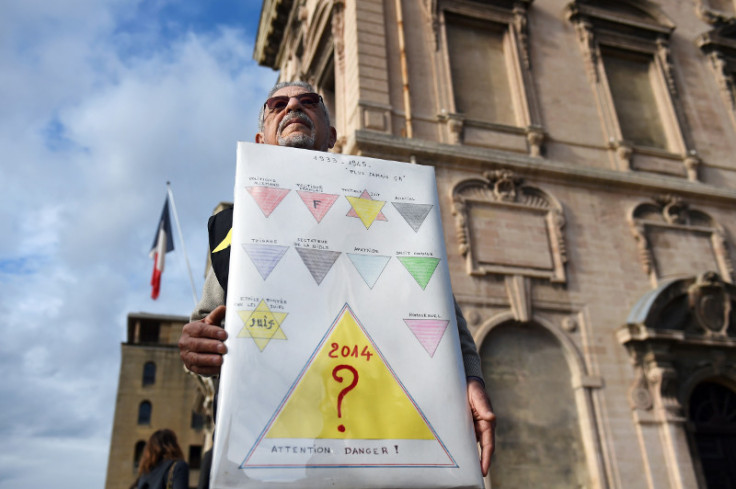 The mayor of Marseille has been forced to scrap plans to make homeless people wear badges with a yellow triangle, which critics claimed were similar badges Jews were forced to wear in Nazi Germany.
Authorities said that badges would carry vital medical information, allowing emergency services to treat homeless people in emergencies more quickly and effectively.
However, there was widespread criticism of the plans, after critics pointed out the similarity of the badges to the yellow Star of David badges Jews were forced to wear in Nazi Germany in the Second World War.
About 100 people protested against the introduction of the cards outside Marseille town hall on Wednesday.
The council has now retracted the scheme, after about 150 of the cards were distributed.
Christophe Louis, president of homeless charity Collectif Morts de la Rue, described the cards as \"scandalous\" and \"stigmatizing\".
\"Wearing something that shows the whole world what illnesses you have is not only discriminating, but it also breaches all medical confidentiality,\" he told The Local.
French government minister joined the chorus of voices demanding the cards be removed.
The French minister for social affairs, Marisol Touraine, said the cards would violate the medical confidentiality of the homeless.
\"Forcing homeless people to carry a yellow triangle indicating the illnesses they might have is outrageous. You don\'t point the finger at the poorest,\" she told Le Parisien.
\"You don\'t write their illnesses on their clothes. Medical confidentiality, in particular, is a fundamental right. I want this local initiative to be stopped.\"
Marseille\'s deputy mayor, Xavier Méry said the criticism was \"absurd\" and that the information could have helped to save the lives of those who did not have families to provide medics with vital information.
\"I\'m appalled by the absurd controversy surrounding this help card distributed by the SAMU (social medical emergency services),\" he said in a statement.
\"It not only questions the necessity of a scheme for homeless people, but also the commitment of the city, the SAMU and volunteers to come to the aid of those who need it the most…SAMU staff and volunteers undertake respectable work, unlike the naysayers who do not help the situation by creating false debates and futile demonstrations.\"