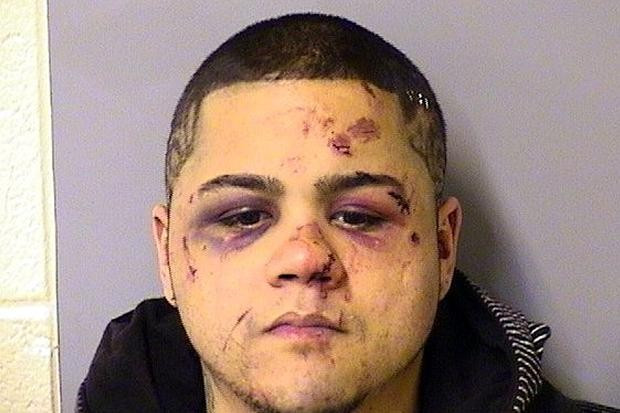 A man, who tried to mug a martial arts champion, was beaten to a pulp by the man he chose to rob.
The mugger, Anthony Miranda, unassumingly walked up to a parked car, pulled a gun and demanded the driver hand over his money. The driver, a former Special Forces solider, occasional bodyguard and a champion in martial arts, did as he was told.
When Miranda,24, was unconvinced by the wad of cash he had just received he order the 6'2" ex-military man out of the car before, "Justin" as he identified himself, grabbed the gun and forced Miranda to shoot himself in the ankle.
Justin then wrestled his mugger to the ground before inflicting two black eyes and cuts to his face. The police arrived moments later to find the battered Miranda on the floor being straddled by the former military man from Romania.
"I wasn't scared because I'm trained," Justin, who is 17 stone, told Chicago Sun-Times. "Training matters. If you're well trained, you have a chance to survive.
"The round went off. I put him down to the ground. He was fighting. He just didn't want to give up." Shortly afterwards, however, "he was begging me to let him go".
Miranda, who was under arrest, was treated in hospital.
"Even after getting some money he ordered the driver out of the car and at some point while Miranda's attention was diverted, the victim was able to rob the gun and wrestle his attacker," said Officer John Mirabelli, of Chicago police.