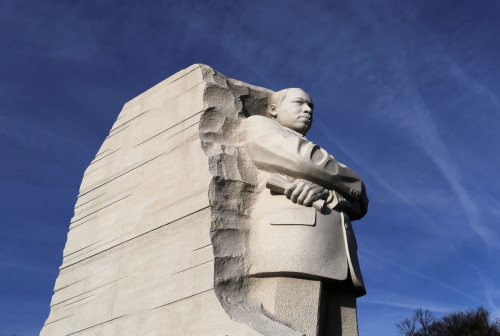 The US has observed the 28th Martin Luther King Jr Day with a string of ceremonies across the nation.
Scores of people visited Martin Luther King Jr's Memorial in Washington to commemorate the day, which has been declared a US national holiday and a National Day of Service in honour of the civil rights leader.
To honour King's life and legacy, US President Barack Obama and First Lady Michelle, along with cabinet secretaries and other senior administration officials participated in community service projects and events.
Barack and Michelle Obama and their two daughters participated in a charity project at the DC Central Kitchen in Washington, where the First Family prepared meals for distribution to shelters in the local area.
Remembering Martin Luther King Jr
Celebrated every third Monday of January since 1986, the Martin Luther King Jr. Day falls around the time of King's birthday - 15 January - and harks back to the civil rights moment of which he was a totemic leader.
Inspired by the non-violent activism of Mahatma Gandhi in the Indian independence movement, King succeeded in boycotting discriminatory acts in state and federal law with the help of speeches and ideologies.
His most famous speech, now known to millions as I Have a Dream, was given in 1963, five years before he was assassinated, and marked the apotheosis of his life.
Martin Luther King Jr was awarded the Nobel Peace Prize in 1964 for leading non-violent resistance to racial prejudice in the US. He was the youngest recipient of the prestigious award.
Have a look at some of the photos of Martin Luther King Jr Day from across the US.