US president Barack Obama gave a landmark speech at the rally commemorating the 50<sup>th anniversary of Martin Luther King's march on Washington where he made his "I have a dream" speech.
Obama, the first black US president, addressed the crowd from the Lincoln Memorial and was joined by former presidents Bill Clinton and Jimmy Carter.
Recalling that historic day, Obama held himself up as a symbol of the change King envisioned, but he also remarked America's lingering economic disparities as evidence that King's hopes remains unfulfilled.
"On a hot summer day, they assembled here, in our nation's capital, under the shadow of the Great Emancipator, to offer testimony of great injustice, to petition for redress, and to awaken America's long-slumbering conscience," he said.
Talking of civil rights activists, he said: "In face of hatred they prayed for their tormentors. In the face of violence they stood up and sat in. They went to jail to protest unjust laws, their cells swelling with the sound of freedom songs.
"Because they kept marching, America changed. Because they marched America became more free and more fair for you and me. And because they kept marching, eventually the White House changed."
King and other slain civil rights activists did not die in vain, said Obama. "To dismiss the magnitude of this promise, to suggest as some sometimes do that little has changed, that dishonours the courage and sacrifice of those who paid the price to march," he said.
However, the US president rightly reminded the crowd that those who gathered 50 years ago "were not there in search of some abstract ideal". "They were seeking jobs as well as justice," he said.
He admitted that economic inequality 'remains our great unfinished business." He says "the task will not be easy."
Obama mentioned the high rates of black and Latino unemployment, and wealth disparities between races. "Inequality has steadily risen over the decades. Upward mobility has become harder."
But there are signs of optimism.
"The March on Washington teaches us that we are not trapped by the mistakes of history, that we are masters of our own fate," he said.
"That tireless teacher who gets to class early and stays late and dips into her own pocket to buy supplies: she's marching," he said.
"The father who realises the most important job he'll ever have is raising his boy right-he's marching."
"We will vindicate the faith of those who sacrificed so much with liberty and justice for all," Obama said, concluding his speech.
King delivered his speech early in the turbulent 1960s when the civil rights movement gained momentum across the States. Two years later, the landmark Civil Rights Act and Voting Rights Act, which outlawed discrimination, were signed into law.
Obama, who has a bust of King in the Oval Office, earlier said the civil rights icon was one of two people he admired "more than anybody in American history". The other was Abraham Lincoln.
"What [King] would also say is that the March on Washington was about jobs and justice," Obama told radio host Tom Joyner. "And that when it comes to the economy, when it comes to inequality, when it comes to wealth, when it comes to the challenges that inner cities experience, he would say that we have not made as much progress as the civil and social progress we've made.
"It's not enough just to have a black president," he continued. "The question is, the ordinary person, day-to-day - can they succeed? And we have not made as much progress as we need to on that. How do we give opportunity to everybody so if they work hard they can make it in this country?"
The original march, which demanded jobs and equal rights for black people, drew about 250,000 people and seen as the one of the greatest protests in American history. The Civil Rights Act, introduced that summer by John F Kennedy but passed only after his death, was considered the most sweeping civil-rights bill outlawing discrimination against racial, ethnic and religious minorities, and women.
On 28 August, 1963, as King was ending his speech, he quoted from the patriotic song, My Country 'tis of Thee and urged his audience to "let freedom ring".
"When we allow freedom to ring - when we let it ring from every city and every hamlet, from every state and every city, we will be able to speed up that day when all of God's children, black men and white men, Jews and Gentiles, Protestants and Catholics, will be able to join hands and sing in the words of the old Negro spiritual, 'Free at last, free at last, great God almighty, we are free at last," King said.
The civil rights leader was assassinated five years later.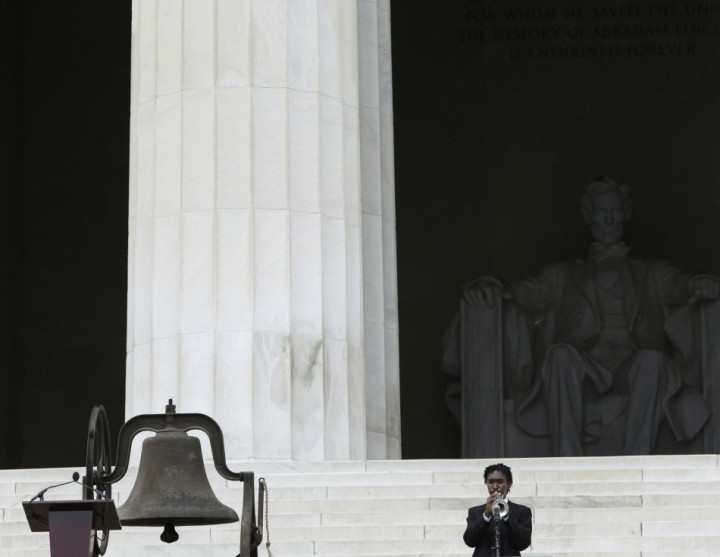 READ:
Has Martin Luther King's Dream Turned to Nightmare for Poor US Black People?