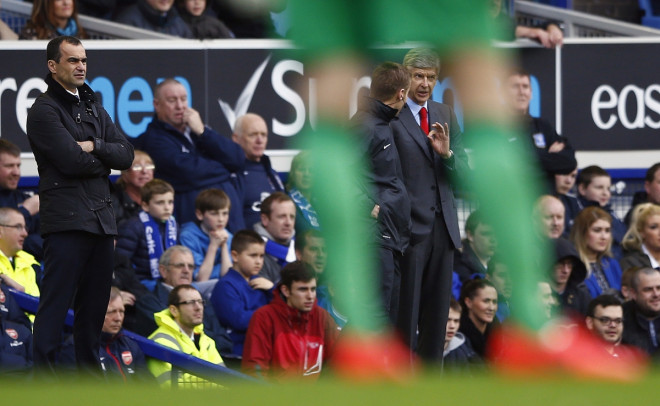 Everton manager Roberto Martinez has blasted David Moyes for making excuses after failing to make the cut at Manchester United this season.
The former Wigan manager believes that Moyes has failed to bring the best out of United, who are the reigning English Champions and have retained the same squad over the last two transfer windows.
On the contrary, United have spent close to £65m for two players in Juan Mata and Marouane Fellaini this sea son, something which has greatly improved their squad.
United come into the fixture at the Goodison on Sunday trailing Everton by nine points, though having paid a game less. A win here for United can potentially close the gap to three if they win their game in hand and fight for a Champions League spot which looks slim at the moment with Arsenal ostensibly back in form.
Moyes had revealed that he was suffering from having inherited an aging squad from Ferguson but Martinez insisted that the claim was rubbish as the players had hardly aged from last season when they won the league title.
"They are still the league champions and they haven't lost anyone. It's the opposite. They have two players on top. United's squad is bigger and better than people are trying to make out," Martinez said.
"Who are these United veterans? Rio Ferdinand? How many games has Rio played? Not many and Ryan Giggs hasn't played many, either. You could look at Chelsea and say they are more of an ageing squad. In football, not everything is straightforward — there's no black and white.
"An ageing squad if you win becomes an experienced squad with knowhow. If you lose, it becomes the players have no legs. It's something in between those extremes. You look at Chelsea, title contenders, but squad-wise worse than United, "he added.
However, Moyes refused to take the criticism nose down and hit back saying that Martinez is building on the squad the Scotsman had left at Everton and that he should be given enough credit for his work with the Toffees.
"Great credit to Roberto but he has a group of players who were always capable of moving up the league. Don't forget Everton finished above Liverpool last year, and the year before. So it was a great achievement. In a way it should not be a surprise they are doing well. They've been in seventh or eighth place for most seasons recently," Moyes retorted.