Marussia Formula One test driver Maria De Villota has lost her right eye after an accident in testing on 3 July that saw her car crash into the back of a team transport truck.
The accident happened at around 9:15am at Duxford airfield, Cambridge, when the 32-year-old Spaniard was returning to the pit area after completing her first straight-line test of the day.
A Marussia team spokesperson said in a statement on 4 July: "It is with great sadness that I must report that, due to the injuries she sustained, Maria has lost her right eye."
The team said that medical staff "embarked on a lengthy procedure to address the serious head and facial injuries sustained," adding that De Villota remains in a "critical but stable" condition.
Team boss John Booth added in a statement: "We are grateful for the medical attention that Maria has been receiving and her family would like to thank the Neurological and Plastics surgical teams,"
"Maria's care and the well-being of her family remain our priority at this time. Her family are at the hospital and we are doing everything possible to support them."
"We ask for everyone's patience and understanding with regard to updates on Maria's condition. We will provide further information when it is appropriate to do so and with consideration for her family.
"In the meantime, we would all like to take this opportunity to praise the emergency services at Duxford Airfield, who were on stand-by yesterday, as is usual procedure for a Formula One test.
"With regard to the accident, we have embarked on a very comprehensive analysis of what happened and this work continues for the moment.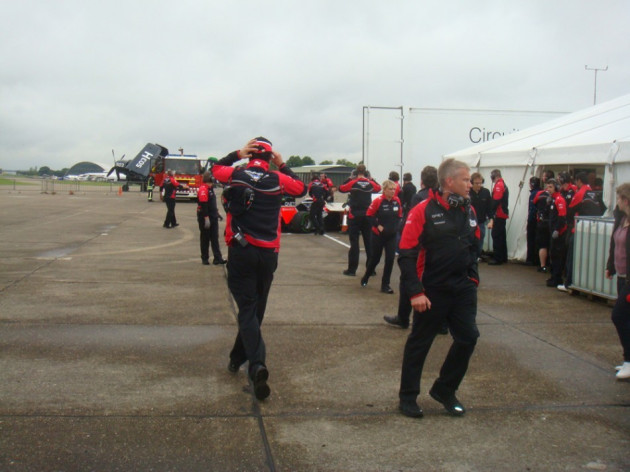 De Villota's injuries were first described as "life threatening" but the Masurria team later said that she was conscious at Addenbrookes Hospital and was receiving further medical attention.
In a statement shortly after the accident on 3 July, the team said: "At approximately 09.15hrs BST this morning, the Marussia F1 Team's test driver Maria De Villota had an accident in the team's MR-01 race car at Duxford Airfield where she was testing the car for the first time."
"The accident happened at the end of her first installation run and involved an impact with the team's support truck."
The BBC reports: "Cambridgeshire presenter Chris Mann, who witnessed the crash, said the car had completed a circuit when it 'suddenly accelerated' into the back of the lorry.
De Villota, 32, was due to take part on two days of straight line testing at the runway in Duxford in her role as test driver for the team, ahead of the British Grand Prix which takes place at Silverstone on 15 July.
A former World Touring Car Championship and Superleague Formula driver, De Villota was due to use her first test session with the Marussia team to work on a major upgrade package ahead of the next race at Silverstone.