Marvel vs DC: Who Won Comic Con 2014's Biggest Battle?
It's no surprise that the biggest rivalry going into San Diego Comic Con, the world's most famous convention, is between the comic book world's two biggest comic book publishers: Marvel and DC Comics.
In recent times however, as the show has grown into a celebration of all things geeky, the battle hasn't been fought over ink and page but rather the movie output of each company – DC working in tandem with Warner Bros and Marvel's output through their own Marvel Studios.
So who won this year's Comic Con? Well the corny but no less true answer is that the fans in attendance did. The output from both companies was fairly similar – stars on parade, advanced footage, new art from the films, props – so whoever wins does so by providing a wow factor, and sense of importance.
DC's unveiling of Gal Gadot's Wonder Woman was perhaps the most historic moment from either side, as she was the most famous superhero yet to find her way to the big screen in the modern era.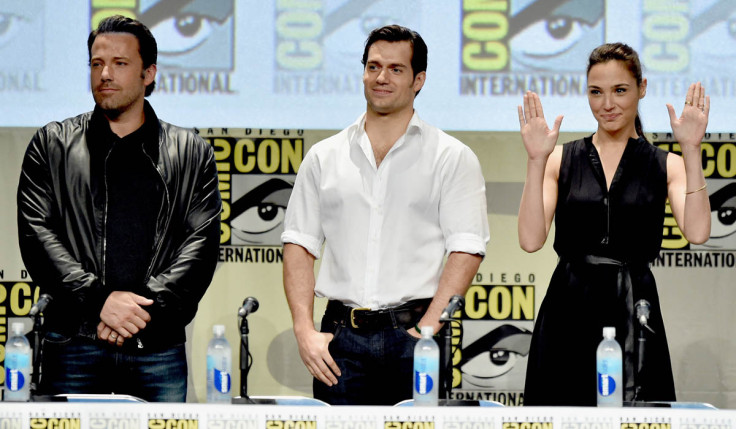 (L-R) Ben Affleck, Henry Cavill and Gal Gadot at Warner Bros' Comic Con panel
Getty
Seeing Batman v Superman: Dawn of Justice's stars Ben Affleck, Henry Cavill and Gadot together on stage ahead of their portrayal of DC's trinity of biggest superheroes Batman, Superman and Wonder Woman respectively was also undoubtedly a big moment.
Meanwhile Marvel seemed to almost be on auto-pilot, even if Marvel on auto-pilot still proved to be a lot of fun. For Marvel there has been a growing problem of stagnation recently. The danger and risk involved in what Marvel have been doing has diminished since Avengers Assemble in 2012, with three sequels starring established heroes lighting up the box office and garnering good responses, but not exactly building on what Marvel's Cinematic Universe (MCU) could be.
Guardians of the Galaxy (out 31 July) may well spice things up again, but all that makes clear is that while Avengers: Age of Ultron is a highly anticipated movie, Marvel Studios needs more originality. Ant-Man follows Avengers next year, but there are more than a few reservations to be had about that film since Edgar Wright departed the project and actor Patrick Wilson followed.
What Marvel needed was something else, something exciting. Josh Brolin made an appearance having been cast as Marvel's biggest villain Thanos, and he came wielding the Infinity Gauntlet (a toy version anyway) – the weapon his character will seek, probably in Avengers 3. Apart from a nice little image however, the moment didn't really count for a lot.
Marvel recently announced a slew of new release dates through until 2019, but didn't announce any of the films for those dates beyond Captain America 3, which we already knew about.
Josh Brolin wields the Infinity Gauntlet
Getty
Doctor Strange is definitely happening as we know, and a casting announcement had been promised if pen had been put to paper in time. It appears however that Marvel has yet to cast the master sorcerer, which may well have thrown a spanner in the works for its Comic Con plans.
DC too has been rumoured to have a lot of films in the pipeline four or five years into the future, and yet we heard nothing of those either. Some look ahead to the future of superhero movies would have obviously been welcome, but timing wise next year makes more sense for both parties, as it'll be the first Comic Con post-Avengers 2 and the last one before Batman v Superman, which marks DC's big step into the world of connected film universes.
The footage shown off by both parties – from Avengers 2 and Ant-Man for Marvel and Batman v Superman for DC – was all met with great excitement, but it's DC who edges it in my opinion for showing a simple and immaculately well-crafted teaser.
Does that mean I'm looking forward to Batman v Superman more than Avengers? No, I'm not, it's just that in this slightly disappointing Comic Con showing, it was DC who put on the better show.
DC put in the best performance for the simple reason that its announcements carried greater weight. They made important steps on their way to emulating Marvel Studios' enormous success, and what it showed off was of the utmost quality judged purely on its own merits.
What did you make of the two company's Comic Con showings? Let us know in the comments below...
© Copyright IBTimes 2023. All rights reserved.