Chelsea footballers, rejoice; just when you thought that the premium SUV market was getting a bit boring, with an endless supply of dull, grey, German off roaders with their six-figure price tags fighting for your chequebook, Maserati has decided to liven things up a bit.
Yes, it's grey, but with a name like a caption from a 1960s Batman episode, the Kubang is Masterati's first attempt at producing a Porsche Cayenne-rivalling premium SUV.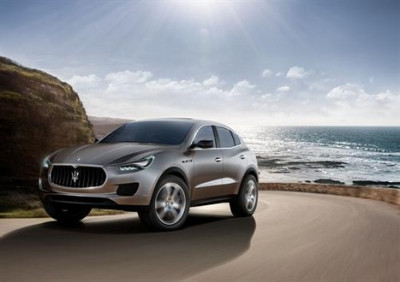 Today Maserati launched a new promotional video of the Kubang on its website. The video shows footage from the firm's motor racing past, highlighting Fangio in the legendary 250F and the contemporary MC12 Corsa with the song lyrics "we can do anything, we can be anyone" repeating through the trailer - a clear hint that the company is trying something radically new with the 4x4 Kubang.
Unveiled at the Frankfurt Motor Show and based on a 2003 concept, the Kubang is set to go on sale next year with an expected price north of £100,000. Sharing a platform found in its less-than-premium sister the Jeep Grand Cherokee - both firms are owned by Fiat - the Kubang is claimed to offer "uplifting driving pleasure and a luxury atmosphere."
The Kubang is expected to receive an evolution of the 4.7-litre V8 currently used in the Maserati GranTurismo, which will no doubt make the thoroughbred Italian more fun than its BMW and Audi rivals.
Maserati said: "New-generation hi-tech Maserati engines will be designed in Modena by Paolo Martinello - Head of the Maserati Powertrain Department and for nearly 30 years at Ferrari, where he also served as engine chief of the Formula One racing team - and will be produced in Maranello by Ferrari".