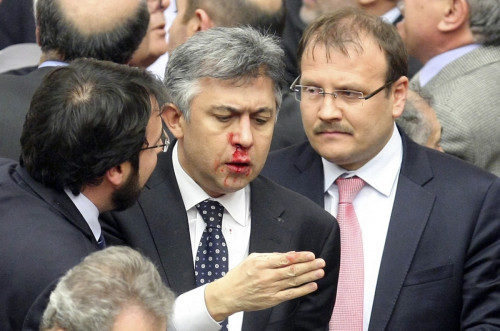 A violent row in the Turkish parliament left one MP with a broken nose and another with fractured fingers during a tense 20-hour debate.
Dozens of MPs were involved as party members traded insults and blows across the chamber. Tempers reached boiling point when an opposition deputy called Prime Minister Tayyip Erdogan a dictator. In reply, deputies from the leader's party shouted back: "Are you drunk?"
The struggle for control of the Higher Council of Judges and Prosecutors (HSYK), which appoints senior members of the judicial system, is at the centre of the row between Prime Minister Tayyip Erdogan and the US-based cleric Fethullah Gulen.
Gulen, who is said to have the support of millions, has built up influence in the police and judiciary. He leads a powerful worldwide Islamic movement from a compound in the United States.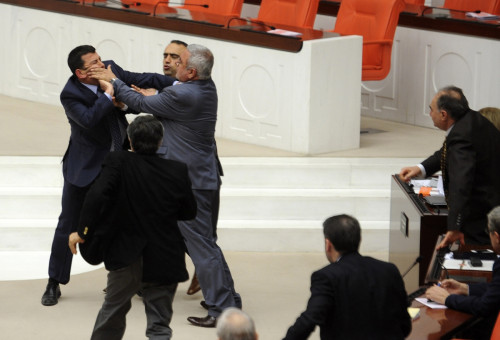 Opposition parties said the HSYK bill is aimed at gagging a draft investigation which began in December in which dozens of business people, the sons of three cabinet ministers, and state officials were questioned.
"The government is in a great hurry, this shows how deep the corruption and bribe allegations are," Oktay Vural MP for the Nationalist Movement Party (MHP) told Assyrian International News Agency.
"They are trying to pass a law which will increase the grip of the execution on judges and prosecutors in such a hurry and with unlawful means," he added.
The bill was frozen since early January, when it again triggered fistfights in parliament and mass protests outside parliament.
Since a corruption scandal in 2013, the government has reassigned or dismissed thousands of police officers and hundreds of judges and prosecutors in what critics claim is an attempt to impede the investigation.
Details of the corruption allegations have not been made public, but they are believed to relate to construction and real estate deals and Turkey's gold trade with Iran, according to Turkish newspaper reports that cite prosecutors' documents.
"If you accept this law, soon you will be repealing the constitution," said CHP (Republican People's Party) MP Akif Hamzacebi during the debate.
Watch the brawling politicians in the Turkish parliament on the YouTube video below: