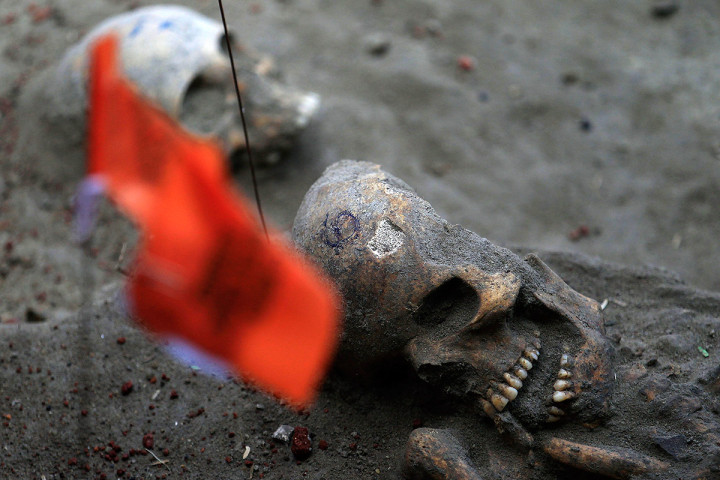 Mass graves of unidentified migrants who died entering the US have been uncovered in a Texas cemetery.
The remains were discovered in trash bags and body bags, and some simply buried in the dirt, at the Sacred Heart Burial Park in Falfurrias, 75 miles from the US border with Mexico.
In one burial site, bones of three bodies were inside one body bag and in another, the remains of at least five people were piled in body bags and plastic carrier bags.
Anthropology researchers from Baylor University and the University of Indianapolis spent days exhuming the remains as part of the Reuniting Families project, which aims to identify migrants who lost their lives crossing the border into Texas.
Researchers performed 52 exhumations but they believe many more could be buried at the site.
The migrants are believed to have died of exposure while trying to evade border patrol checkpoints in remote parts of southern Texas, where temperatures reach more than 100 degrees in the summer.
Krista Latham, a forensic anthropologist at the University of Indianapolis, told the Corpus Christi Caller-Times: "To me it's just as shocking as the mass grave that you would picture in your head, and it's just as disrespectful."
Democratic state senator Juan Hinojosa urged district attorney Carlos Omar Garcia to launch an investigation into the burial site.
"I'm appalled at the number of bodies just left in body bags and, in many instances, more than one body in one bag," he said. "That's not right. We need to get to the bottom of the situation."
County officials said they paid local funeral home Funeraria del Angel Howard-Williams to handle the bodies after they were discovered.
Eddie Canales, an activist at the South Texas Human Rights Center, said he believes the deaths are in part down to the US government's attempts to tighten border patrols, which has led to migrants using riskier routes to avoid detection by immigration officials.
Researchers said they exhumed the remains of 110 identified bodies from the cemetery in 2013. In 2012, the bodies of 129 migrants are believed to have been found dead on ranches north of the Texas border.