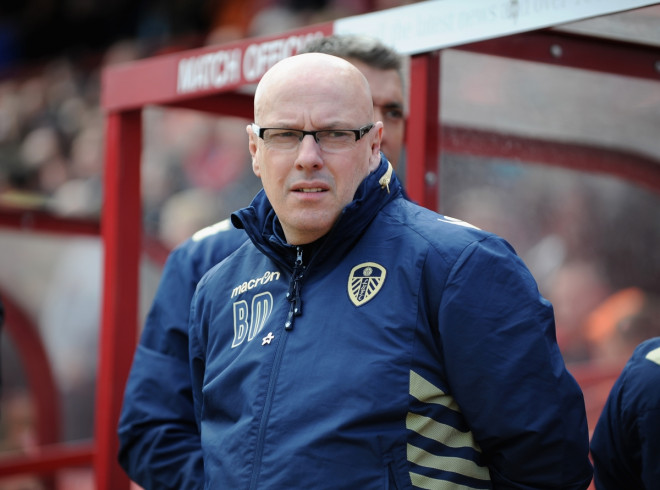 Brian McDermott's position as Leeds United manager continues to reign in uncertainty after criticism from owner Massimo Cellinon was followed by the official appointment of Benito Carbone as first team and academy consultant.
The former Sheffield Wednesday and Bradford City forward will undertake "a consultant position and will deal with technical and football operations" which includes being "involved with all football matters, including both the first team and the academy".
Though Cellino has previously ruled out Carbone, 42, taking up a management role at Elland Road, the appointment works to jeopardise the authority of McDermott whose reappointment as manager had carried the promise he would assume control of all footballing duties.
McDermott's future at Leeds also appeared under-threat on Wednesday after Cellino slammed the manager for relinquishing his position by going on holiday following the end of the season.
The Irishman guided Leeds to a 15th place finish in the Championship last season and even though Cellino has promise to give the ex-Reading boss time, the 57 year old is seemingly losing patience.
"I think at this moment the club is not managed by anyone," the Leeds owner told ITV. "Who's managing the club? Brian Where's Brian? I send a letter to Brian – help us. He's on holiday to get rest, he was tired. I can understand. But why this kind of reaction?
"[I asked him] just let me know what he's planning for pre-season. What he's thinking for the future. What's his plan? What are his ideas? Where are the people that we pay wages every month gone? Who gave them the permission? Who organised that? He's the manager.
"I want to be the captain, the pilot. I want to be responsible for this plane. After that they can tell me if I am good or if I am not. But I will not take the plane with someone who when I push, they push the brake.
"If we take a lot of weight out of this plane, I won't take this club to the Premier League, it will go by itself. It has got the potential that if you take a lot of weight out of this club. We need to take the weight, take the garbage from our plane, from Leeds."