Massive anti-government protest held in Warsaw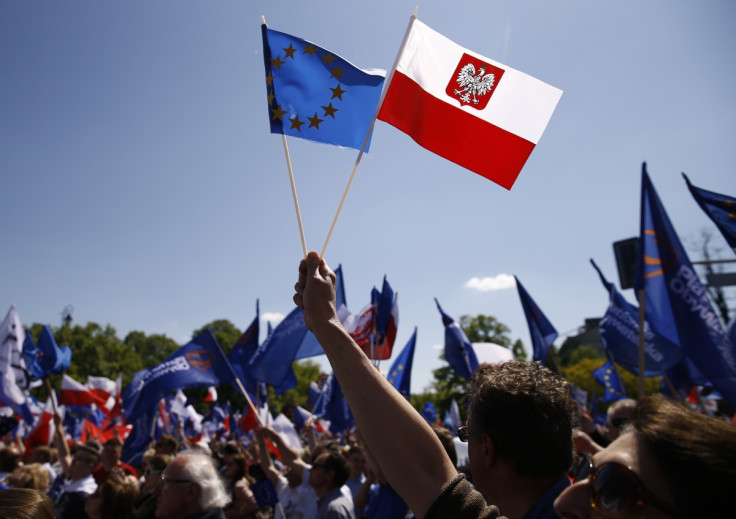 Thousands of Poles took to the streets of Warsaw to protest against the Polish government. They were seen waving EU and Polish flags while chanting anti-government slogans.
According to Warsaw City Hall, at least 240,000 people were out on the streets while the police said the number could be around 45,000. A smaller counter-protest was also held by supporters of the government which saw around 4,500 people. The demonstrators claimed the ruling Law and Justice Party (PiS) is behaving in an undemocratic manner.
The government passed an amendment in December 2015 appointing five judges to the 15-member constitutional court also known as The Constitutional Tribunal. The move was deemed illegal by opposition parties and activists. The decision also drew a wave of public protests, caused uncertainty among investors and Poland's stock market plunged to its lowest in about six years.
The opposition stems from the fact that the functions of the court are written into the constitution and the government lacks the authority to change the constitution.
The leader of the ruling party, Jaroslaw Kaczynski, said in a Facebook chat: "Those protests show an inability to accept the result of elections."
Earlier, he said: "We treat our membership of the EU as permanent. To be in Europe is to be in the EU. Those who say otherwise are damage-inflicting political brawlers."
The opposition leader of the Civic Platform party, Grzegorz Schetyna, said: "We won't allow a nightmare of authoritarian rule. We won't allow the violation of democracy, the violation of the rule of law, violation of the constitution."
The amendment requires the court to pass its rulings by a two-thirds majority with at least 13 members present. It also means that the five judges appointed by the government have to be a part of the rulings of the court.
Before the amendment was issued, the court needed five judges to be present to pass a decision, while extremely sensitive cases needed nine judges to be present, Reuters reported.
The government also made changes to the media laws which place TV and public radio under a new national media counsel and therefore, giving the country's Treasury minister the right to hire and sack staff.
According to BBC, the European Commission has begun an inquiry into the changes made to Poland's media laws and the constitutional court, while the Council of Europe said the changes undermine the rule of law.
© Copyright IBTimes 2023. All rights reserved.