Veterinarians have removed a ball of 915 coins from the stomach of a green sea turtle, during a seven-hour surgery at Thailand's Chulalongkorn University on 6 March. The 25-year-old female reptile, named Omsin – 'piggy bank' in Thai – consumed the coins as they were thrown into her pool at a conservation centre in Sriracha, Chonburi. Many visitors throw coins at turtles for good luck.
The money, two fish hooks, along with various other objects had formed a 5kg ball inside the endangered turtle's stomach, the weight of which cracked her ventral shell and left her with a life-threatening infection. Surgeons were unable to extract the ball as a whole and had to remove it piece by piece.
"The result is satisfactory. Now it's up to Bank how much she can recover," said Pasakorn Briksawan a member of the five-surgeon team that performed the operation. The turtle will be on a liquid diet for the next two weeks and the veterinarians predict that she should recover completely in a month's time. She will however require physical therapy for the next six months.
"I felt angry that humans, whether or not they meant to do it or if they did it without thinking, had caused harm to this turtle," Nantarika Chansue, who led the surgery, told the Associated Press.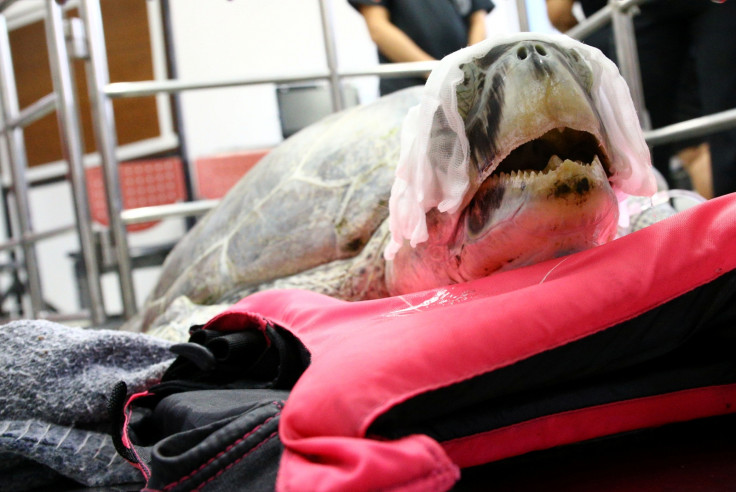 The navy first discovered that Omsin was ill and brought her to the vets, who performed a 3D scan and found the massive metal ball. Following a media campaign, people donated 15,000 baht ($427, £350) for her surgery.