Massive explosion rocks Sana'a as Oxfam slams Saudi Arabia over Yemen warehouse bombing [Video]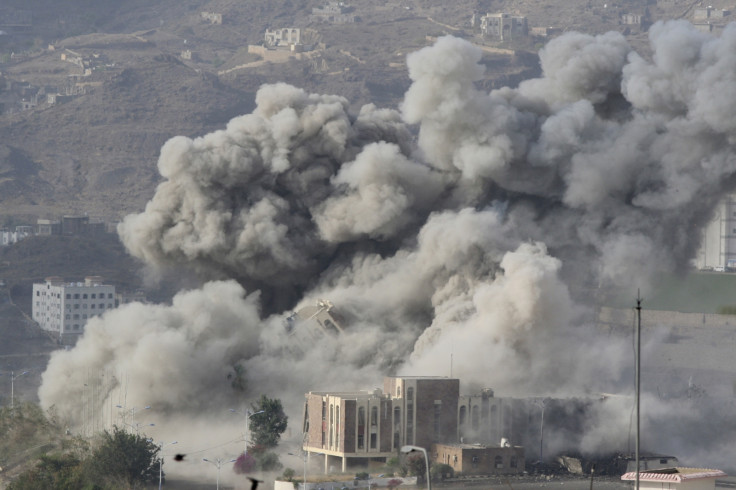 Oxfam has hit out at Saudi Arabia after an air strike destroyed one of its storage warehouses in the Houthi stronghold of Sa'ada in northern Yemen.
This comes as an attack on a weapons depot in the capital Sana'a rocked the city and the death toll continued to rise.
In a statement posted on its website, the aid charity criticised Riyadh over its prolonged bombing of Yemen, which has so far killed more than 760 people – many of them civilians, according to the UN – with a further 150,000 driven from their homes.
"We have shared detailed information with the coalition on the locations of our offices and storage facilities. The contents of the warehouse had no military value. It only contained humanitarian supplies," said Grace Ommer, Oxfam's Yemen country director.
Oxfam said that the warehouse in Sa'ada had been used to store supplies for a water project, which provided drinking water to around 70,000 families in northern Yemen.
Saudi Arabia has not commented on the incident, Reuters reported Monday, but Brigadier General Ahmed Asseri has previously said that the Houthis often hide weapons in residential areas.
Saudi Arabia is facing mounting criticism over its action in Yemen, which was launched on March 25 after the Houthis marched on the southern city Aden following the militia's seizing of the capital, Sana'a, at the beginning of this year.
The Yemeni president Abdrabbuh Mansour Hadi fled to Riyadh and Saudi Arabia assembled a coalition of Sunni states including the UAE, Egypt and Jordan, to mount a bombing campaign to oust them.
Saudi Arabia alleges that the Shia Houthis are being armed by Iran, a claim that Tehran has so far denied. Iran's foreign minister Mohammad Javad Zarif has called for an end to the conflict and urged the international community to intervene to prevent more civilian deaths.
Yemenis have been posting videos of air strikes to social media including a massive explosion when Saudi jets hit an alleged Houthi weapons depot on Monday. Reuters reported that the strike killed seven civilians and wounded dozens more, AFP reported that 18 were dead and 300 injured while reports from the Houthi-run Yemeni media said "dozens" had been killed.
Meanwhile, aid agencies have warned of a looming humanitarian crisis in a country that imports more than 90% of its food and water.
In a BBC report from Aden, doctors at the city's hospital said they were running out of medicine as armed men stood guard outside.
Despite the prolonged bombing campaign, Saudi Arabia has been largely unsucessful in stopping the Houthis, which continue to fight pro-government militias street-by-street in Aden. The war has also inadvertently bolstered al-Qaeda in the Arabian Peninsula, which last week took control of a strategic city airport and oil refinery in the west of the country.
© Copyright IBTimes 2023. All rights reserved.