Thousands of people have taken to the streets of London to demonstrate against the country's decision to leave the European Union (EU). The British public delivered its verdict on 23 June, with 51.9% of voters backing Brexit compared to 48.1% who opted to remain.
Today, 2 July, Tens of thousands of people are making their way towards Parliament Square via Pall Mall and Whitehall. The "March for Europe" rally was organised by comedian and activist Mark Thomas, who said it was borne out of "anger, frustration and need to do something".
"We would accept the result of the referendum if it was fought on a level playing field," he said. "But it was full of misinformation and people need to do something with their frustration."
Brexiteers – campaigners for Vote Leave – have been accused of reneging on promises made over the course of the referendum campaign, including the pledge to increase the NHS budget by £350m a week.
Last week former Tory leader and Brexit campaigner Iain Duncan Smith said: "Our promises were a series of possibilities."
Up to 40,000 protesters are expected to attend the march and some could be seen holding signs which read: "We love EU" and "Fromage not Farage". The crowd also chanted: "EU, we love you."
Philippa Griffin, 40, from Hertfordshire told the BBC: "I'm absolutely outraged at the way people voted, the lies the referendum was based on and the divide in the country because of it. My ideal outcome from this march is that MPs realise that leaving the EU is not what people truly want."
She added: "It feels like our country has already changed."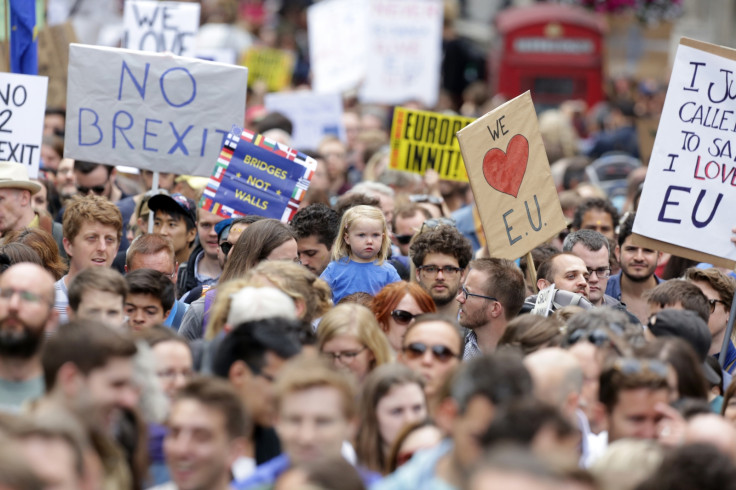 Brighton resident Marie Sansford was originally against Britain joining the European Economic Community in 1973. She told the Guardian: "I feared that joining the EU would allow global companies to take over, which has happened to an extent.
"But being in the EU we can group together with other countries, be friends with our neighbours. I don't want to see the whole of Europe fall apart. I'm just very worried for future generations."
The hashtag #marchforeurope was trending on Twitter with people on both sides of the debate posting their views.