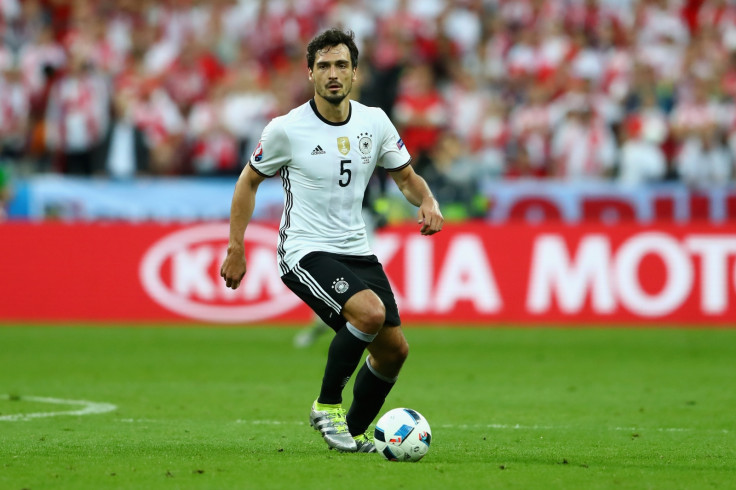 Bayern Munich defender Mats Hummels has suggested he rejected a move to Manchester United because they could not offer him Champions League football. The 27-year-old centre-back recently made the switch to the Bavarian capital from Borussia Dortmund, but has revealed he considered moving to England before he joined Bayern.
Hummels was strongly linked with a move to United during Louis van Gaal's time as manager. And while he refused to explicitly say he held talks with the Old Trafford club, Hummels admitted he did receive an offer from one English side.
"Fundamentally, England, Spain and Germany were the relevant leagues I could see myself playing football in," Hummels said, according to Suddeutsche Zeitung. "But at this stage there just was not that one English club where the overall package was fitting."
Hummels suggested that United's lack of Champions League football next season helped to sway his decision. United finished fifth this season and will play in the Europa League in the 2016/17 season, after scoring 49 league goals, their lowest total since 1989-90.
"The overall package means: a club which fascinates me; a club I have always wanted to join, and where the sporting constellation is right, and which of course plays Champions League football next season," the reported United target said. "And because of the latter one club was ruled out, and you can envision which club that was."
Tellingly, perhaps, Hummels did not intervene when the interviewer suggested United had been the club chasing him. On the other hand, the World Cup-winning defender – who signed for Bayern for around £30m – denied reports Arsenal were interested in signing him.
"I don't have to beat about the bush, and pretend they [Arsenal] wanted me," Hummels said. "There was no offer. The same applies for Spain, there was always contact but no option right now. That's why I now have made the fundamental decision to continue my career in Germany."