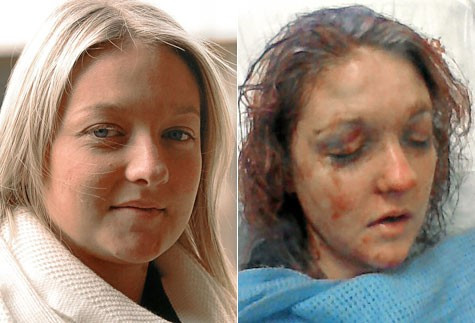 A drugged-up thug was jailed for 12 years after mercilessly beating a nursery nurse for ten minutes in a completely random and unprovoked attack.
Katey Wall, 24, from Shropshire, was beaten so badly that her mother didn't recognise her and her usually blonde locks were stained red from blood.
Paramedics who arrived on the scene after a member of the public scared her assailant off thought she had been stabbed.
Matthew Atkins, 25, also from Shropshire, had consumed alcohol and up to three grams of cocaine in the lead up to the assault.
"I wasn't aware anyone was following me," Wall told the Daily Mail.
"I heard a couple of footsteps and someone put their hand over my mouth from behind. When I turned around I realised I didn't know him and he kept his hand over my mouth and was pinching my nose.
"It was a struggle at first, I was throwing my arms everywhere and screaming but he had his hand over my mouth.
Wall even tried to pretend she was dead to try and make Atkins leave her alone.
"I was face down and he was using my hair to bash my head on the floor really hard. I thought that was it, I thought I was going to die.
"So I thought maybe if I do play dead and stop breathing, he might go away. He was listening for my breathing and eventually I let out a gasp, then he kept on banging my head off the floor.
"I'm just relieved it's over. It was never going to be enough no matter what he got.
"I'll just go home and try to get back to normal now."
Her ordeal ended when a member of the public, Dave Watkins scared the attacker off.
"I do feel if he hadn't have come along I wouldn't be here today," she told the Shropshire Star.
Atkins was jailed for 12 years at Shrewsbury Crown Court after pleading guilty to unlawfully and maliciously wounding with intent to cause grievous bodily harm.
The court heard he would serve a minimum of nine years in prison before being considered for release.
Judge Robin Onions said: "She was a lady and she was a vulnerable victim. It must have been a terrifying incident.
"This was a horrific offence. You went out on the night in question and chose to take with you two grams of cocaine.
"During the course of that evening you had taken probably over three grams of cocaine. You were effectively out of control such that you had no control over your behaviour.
"I can only presume this was a targeted attack. Not that you targeted Miss Wall, but that you targeted a girl."
Prosecuting, Phillip Beardwell told the jury that her attacker had left her in a pool of blood before leaving his blood stained jumper and trainers in a nearby park.
He added: "Mr Atkins had by all accounts consumed a large amount of drugs and alcohol that evening.
"It was a random, isolated attack. She (Miss Wall) thought she was going to die.
"The bleeding caused her hair to effectively change colour to an almost red because of the amount of blood that had seeped through."