An athlete has spoken of his amazing recovery from nine near-death experiences, including cancer and a shattered spine, as he prepares to take part in the London Triathlon.
Matthew Hawksley, a 25-year-old welding engineer, has told his incredible story of survival following a serious of dramatic incidents and life-threatening illnesses.
Hawksley, of Huntingdon, Cambridgeshire, has said that after cheating death nine times he feels like the unluckiest man on the planet - and the luckiest at the same time.
Hawksley's first brush with death occurred when he attempted to dive off a pier into the sea whilst he was on a work getaway, not realising the water was just 1m (3ft) deep.
The 25-year-old shattered the fifth vertebrate in his spine, and the shock of the impact gave him a heart attack, leaving his lungs to fill up with water.
Luckily a rescue team were nearby and able to revive him and send him to hospital in an ambulance.
On the way to the hospital, Hawksley had to be revived a further four times after suffering cardiac arrests, with his heart stopping for a total of 15 minutes at one point.
Hawksley then spent a further five weeks in a coma, during which time he managed to catch both MRSA and pneumonia.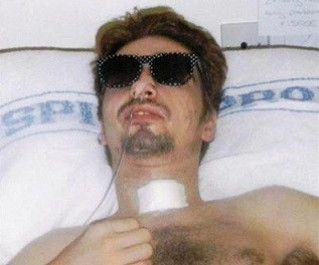 After being told he may never be able to walk or speak again, Hawksley defied doctors' expectations by taking his first steps just five months after his accident.
However, he was dealt another blow soon after his recovery when he was told that he had contracted testicular cancer. Luckily, it was spotted early and he has made a full recovery after having one of his testicles removed.
Hawksley has said how his death-defying escapes would not have been possible were it not for the people who pulled him out of the water at the scene of his original accident in June 2011.
He said: "There is no doubt I was saved by people who pulled me from the water and who knew exactly what to do.
"By divine coincidence a nurse and a medical team in the immediate area kept me alive until an ambulance arrived.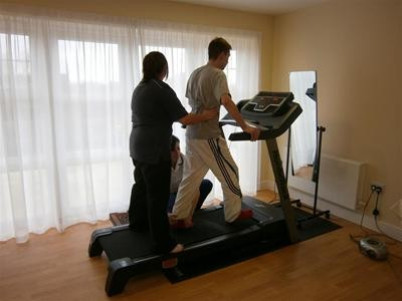 "I woke up and I was completely paralysed. I could only see black and white shapes and could only communicate by blinking and sticking my tongue out.
"My family was told that it was unlikely I would speak again and I probably would spend my life in a wheelchair controlled by my chin.
"The realisation that it was possible that I would be paralysed for the rest of my life was very real. Then to get through that and find out I had cancer was a massive blow."
He added: "In lots of ways I feel like the unluckiest man I know - but in lots of ways I suppose I'm the luckiest man in Britain.
"But you can't let yourself down. You have to pick yourself up and work with what you've got. I have never really been down or upset. You just have to carry on, I suppose."
Following his incredible fight back, Hawksley is now planning on running, swimming and cycling in the Virgin Active Triathlon in London in July, to raise funds for both cancer and spinal cord injury charities.
You can donate by visiting Hawksley's Just Giving pages here and here.