Hurricane Irma, the most powerful Atlantic Ocean hurricane in recorded history, is barrelling across northern Caribbean islands en route to a possible landfall in Florida over the weekend. Its trajectory is uncertain, but Irma is expected to become the second powerful storm to hit the US mainland in as many weeks after Hurricane Harvey.
Several tiny islands in the resort-heavy eastern Caribbean are directly in the path of the storm. Hurricane watches are in effect for Guadeloupe, Haiti, the Turks and Caicos Islands and the southeastern Bahamas. Airlines cancelled flights to the region, and American Airlines added three extra flights to Miami from San Juan, St Kitts and St Maarten.
The eye of Irma, a Category 5 storm packing winds of 185 miles per hour (295kmh), passed over the island of Barbuda east of Puerto Rico, early on Wednesday. "We are hunkered down and it is very windy ... the wind is a major threat," said Garfield Burford, the director of news at ABS TV and Radio on the island of Antigua, south of Barbuda. "So far, some roofs have been blown off."
The northern parts of the Dominican Republic and Haiti could see 10 inches of rain, with as much as 20 inches in the southeast Bahamas and Turks and Caicos.
Most people who were on Antigua and Barbuda were without power and about 1,000 people were spending the night in shelters in Antigua, according to Burford. "It's very scary ... most of the islands are dark so it's a very, very frightening," he said.
Many homes in Antigua and Barbuda are not built on concrete foundations or have poorly constructed wooden roofs that are susceptible to wind damage. Officials warned people to seek protection from Irma's "onslaught" in a statement that closed with: "May God protect us all."
The US National Weather Service said Puerto Rico had not seen a hurricane of Irma's magnitude since Hurricane San Felipe in 1928, which killed a total of 2,748 people in Guadeloupe, Puerto Rico and Florida.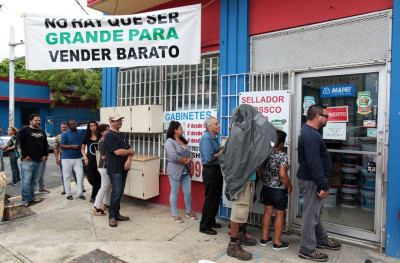 Several other Leeward Islands, including Anguilla, Montserrat, St Kitts and Nevis, as well as the US and British Virgin Islands, Puerto Rico and the Dominican Republic were under a hurricane warning. "Preparations to protect life and property should be rushed to completion," the US National Hurricane Center (NHC) in Miami said, warning that Irma "will bring life-threatening wind, storm surge and rainfall hazards" to those islands.
Warm water is fuel for hurricanes and Irma is moving over water that is 1.8 degrees (1 degree Celsius) warmer than normal. The NHC said Irma ranked as one of the five most powerful Atlantic hurricanes of the past 80 years and the strongest Atlantic basin storm ever outside the Caribbean Sea and Gulf of Mexico.
Puerto Rico Governor Ricardo Rossello urged residents to seek refuge in one of 460 hurricane shelters in advance of the storm and later ordered police and National Guard troops to begin evacuations of flood-prone areas in the north and east of the island. "This is something without precedent," Rossello told a news conference.
The storm seemed almost certain to hit the United States by the weekend or early next week. "You'd be hard pressed to find any model that doesn't have some impact on Florida." said University of Miami senior hurricane researcher Brian McNoldy. In Florida, people also stocked up on drinking water and other supplies.
Gov. Rick Scott activated 100 members of the Florida National Guard to be deployed across the state, and 7,000 National Guard members were to report for duty Friday when the storm could be approaching the area. On Monday, Scott declared a state of emergency in all of Florida's 67 counties.
US President Donald Trump approved emergency declarations for Florida, Puerto Rico and the US Virgin Islands, mobilising federal disaster relief efforts, the White House said.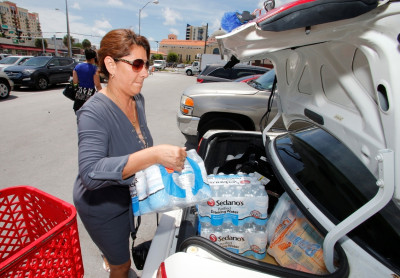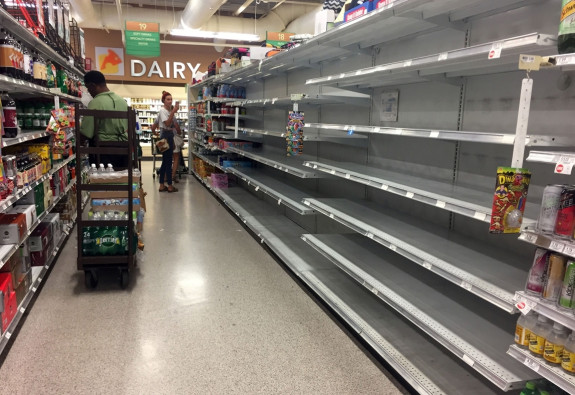 Authorities in the Florida Keys called for a mandatory evacuation of visitors to start at sunrise on Wednesday, and public schools throughout South Florida were ordered closed. Residents of low-lying areas in densely populated Miami-Dade County were urged to move to higher ground as a precaution against coastal storm surges.
A new tropical storm has also formed in the Atlantic, to the east of Irma. The NHC said Tropical Storm Jose was about 1,330 miles (2,140km) east of the Lesser Antilles and its maximum sustained winds had risen to 50 mph (85kph). It was moving west-northwest at 14 mph (22kph) and could become a hurricane by Wednesday night.
Meanwhile, a tropical depression formed in the southwestern Gulf of Mexico off the coast of Mexico. The NHC said the system could become a tropical storm while meandering in the Gulf for several days before making landfall in Mexico on Saturday.