Thousands of National Guard troops, police officers, rescue workers and civilians are using helicopters, boats and high-water trucks in an attempt to locate and rescue residents stranded in the flood-devastated city of Houston.
America's fourth-largest city has been largely paralysed by Tropical Storm Harvey, which transformed streets into rivers, shut the city's two main airports and knocked out power to more than a quarter million customers.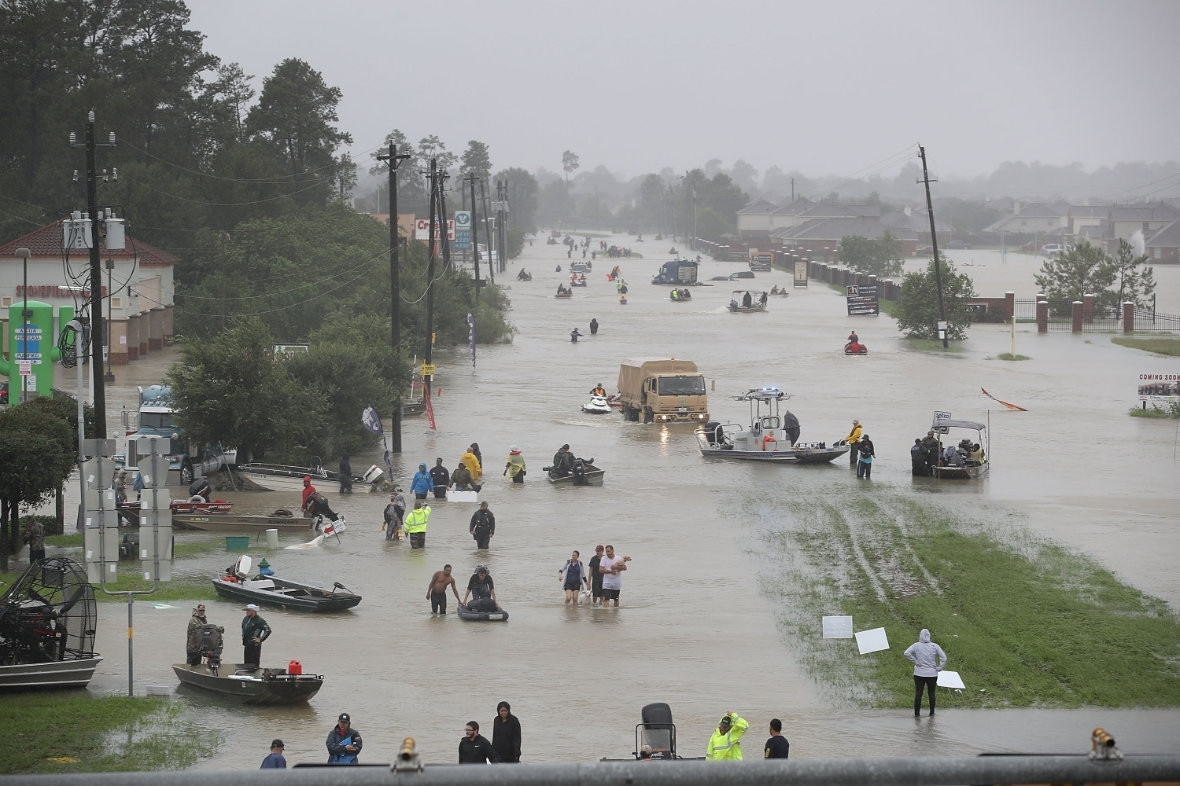 The sheer volume of water that has fallen on Houston is mind-boggling. Harvey has dumped more than 30 (76cm) inches of rain in some places, with another 20 inches (50cm) expected by Saturday (2 September). That would total 50 inches (127 cm) of rain in a week, more than it typically receives in a year.
The Houston region will almost certainly break the nearly 40-year-old US record for the heaviest rainfall from a tropical system — 48 inches, set by Tropical Storm Amelia in 1978 in Texas.
A meteorologist has calculated that 15 trillion gallons (56 trillion litres) of rain have already fallen on the Houston area, and an additional five or six trillion gallons are forecast by the end of Wednesday.
The storm is generating an amount of rain that would normally be seen only once in more than 1,000 years, said Edmond Russo, a deputy district engineer for the Army Corps of Engineers, which is concerned that floodwater would spill around a pair of 70-year-old reservoir dams that protect downtown Houston.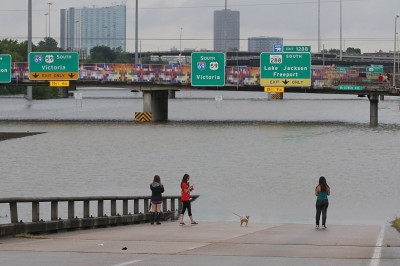 Harvey was the most powerful hurricane to strike Texas in more than 50 years when it came ashore on Friday near Corpus Christi, about 220 miles (354 km) south of Houston. It has since lingered around Texas' Gulf Coast, where it is forecast to remain for several more days, picking up warm water from the Gulf of Mexico and dumping torrential rain from San Antonio to Louisiana.
Rescue crews overwhelmed by thousands of calls during one of the heaviest downpours in US history have had little time to search for other potential victims, but officials acknowledge the grim reality that fatalities linked to Harvey could soar once the devastating floodwaters recede from one of America's most sprawling metropolitan centres.
At the time of writing, 15 people had been reported dead. But unconfirmed reports of others missing or presumed dead were growing. "We know in these kind of events that, sadly, the death toll goes up historically," Houston police Chief Art Acevedo told The Associated Press. "I'm really worried about how many bodies we're going to find."
Rescuers continue plucking people from inundated neighbourhoods. Mayor Sylvester Turner put the number rescued by police at more than 3,000. The Coast Guard said it also had rescued more than 3,000 by boat and air and was taking more than 1,000 calls per hour. By Monday night, 7,000 people had arrived at the city's largest shelter set up inside the George R. Brown Convention Centre — which originally had an estimated capacity of 5,000. The centre also was used to house Hurricane Katrina refugees from New Orleans in 2005. The images of the devastation in Houston stir painful memories of Hurricane Katrina.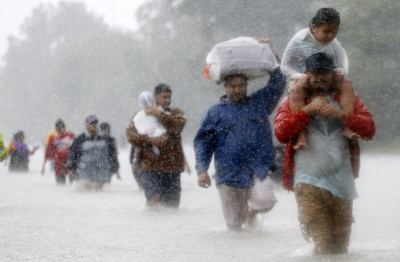 The widespread flooding caused by Harvey is the first test of how US President Donald Trump, who never previously held political office, responds to a major disaster. Former President George W Bush was sharply criticised for his handling of Hurricane Katrina. He was called insensitive for not initially visiting New Orleans, hard hit by Katrina, and instead releasing a photo of himself looking out a plane window at the damage.
Trump is not visiting Houston – or not just yet. He is scheduled to arrive in Corpus Christi on Tuesday and will later go to the Texas capital Austin to meet state officials, receive briefings and tour the emergency operation centre, the White House said.
Flood damage in Texas from Harvey may equal that from Katrina, one of the costliest natural disasters in US history, an insurance research group said.