Aerial photos show enormous devastation caused by Hurricane Irma on Sint Maarten, the Dutch side of the Caribbean island of Saint Martin. The photos, released by the Dutch Ministry of Defence, show smashed hotels, a damaged marina with boats tossed into piles, submerged streets and flooded homes.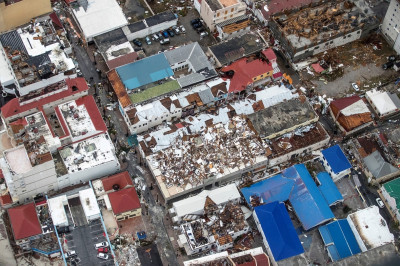 Images of the country's Juliana Airport showed the landing strips appear intact, though the navy said the airport is "unreachable" for now. Andre van der Kamp, commander of the Dutch ship Zeeland, tweeted that the Zeeland and Pelikaan would be trying to moor on Sint Maarten to deliver emergency aid on Thursday (7 September), but they needed to complete a safety check of the port first.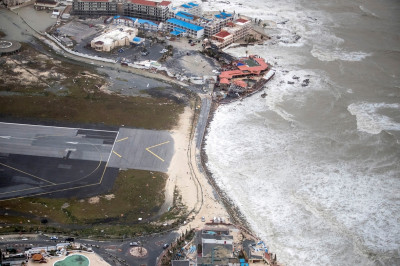 Dutch Interior Minister Ronald Plasterk said he briefly had contact with Saint Martin's prime minister but communications are sporadic. Sint Maarten is an independent nation within the Kingdom of the Netherlands, with a population of around 40,000 – about the same as the French side. "It is an enormous disaster, 95 percent of the island is destroyed. I am in shock," Daniel Gibbs, chairman of a local council on Saint Martin, told Radio Caribbean International.
French Interior Minister Gerard Collomb said eight people were killed and the toll was likely to rise. "We did not have the time yet to explore all the shores," Collomb told Franceinfo radio, adding that 23 people were also injured.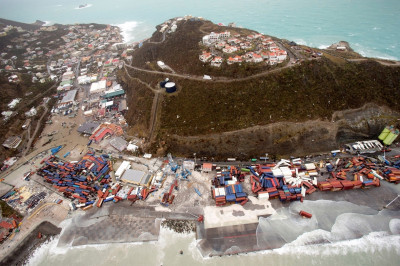 Irma, a Category 5 storm packing winds of 185 miles per hour (295 km per hour), is the strongest hurricane ever recorded in the Atlantic Ocean and one of the most powerful storms to hit the Atlantic basin in a century.
In all, at least 10 people were reported killed by Irma on four islands. The island of Barbuda is a scene of "total carnage" and the tiny two-island nation will seek international assistance, said Gaston Browne, prime minister of Antigua and Barbuda. Browne told the BBC about half of Barbuda's population of some 1,800 were homeless while nine out of 10 buildings had suffered some damage and many were destroyed.
The hurricane is on track to reach Florida, becoming the second major hurricane to hit the US mainland in as many weeks after Hurricane Harvey. There are another two major storms, named Jose and Katia currently swirling in the Atlantic.