Follow LIVE coverage of Floyd Mayweather v Manny Pacquiao here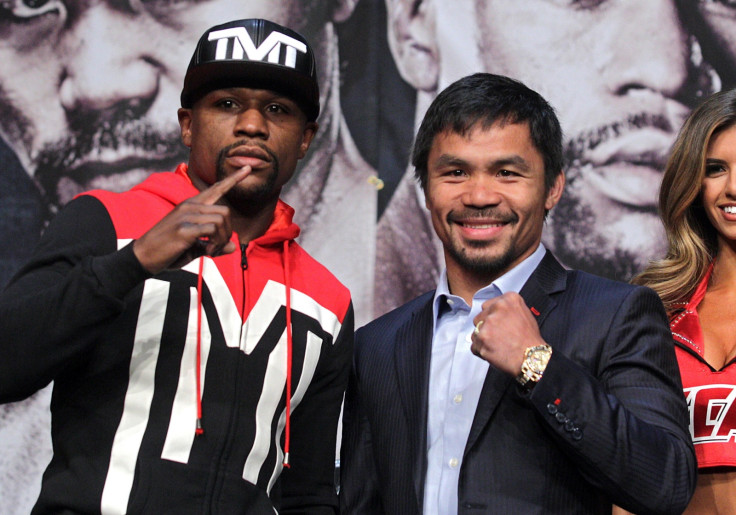 Despite the 4am start time on Sunday morning, tickets to watch the "Fight of the Century" at London venues have almost sold out. You could stay at home and watch it on Sky pay-per-view. But fear not, if it is a rambunctious all-nighter in the Big Smoke you want, IBTimes UK has trawled the city and found the last remaining tickets for Money v Pacman.
Hoop and Grapes in Farringdon had a few tickets left when we called on Friday afternoon (1 May). You can get a seat for a fiver and Real Ale on tap. Not bad.
The Alexandra in Clapham had plenty of tickets left for the big fight. At £10 a pop, it is a good option if you find yourself saaf of the river.
Rileys in Haymarket, aka the Mecca of televised sports in London, still had a "handful" of tickets left at lunchtime on Friday. £30 will get you in. Rileys in Victoria still had 20 tickets left at £10 each
Fulham's Broadway House Bar & Grill has £20 tickets. Looks like a classy joint this one.
If you really fancy watching in style, £150 will get you a champagne dinner in the Green Room at Jetlag in Fitzrovia. Plenty of tickets left there.
Just down from London Bridge station, Number 1 Bar has good availability for its special Mayweather v Pacquiao packages. £20 and £25 options are available, comes with 3 drinks and a burger if you go for the more expensive option.
As well as its usual offering, Browns in Shoreditch is showing the big fight and will have 30 tickets available on the door for £30 each.
Belushis, which are dotted across the capital, are showing the fight but they had no tickets left when we spoke to them.
Clapham Grand may be showing the bout on "the biggest screen in London" but there are no tickets left for that one.
Most of these venues said there is no point turning up on the night. Get hold of tickets in advance or stay at home. No ticket will probably mean a long old stint home on a night bus and missing what is touted to be the best fight ever.