McDonald's Tells Workers: Eat Less and Sell Your Christmas Presents
Fast food chain criticised for 'offensive' advice to US workers demanding living wage of $15 an hour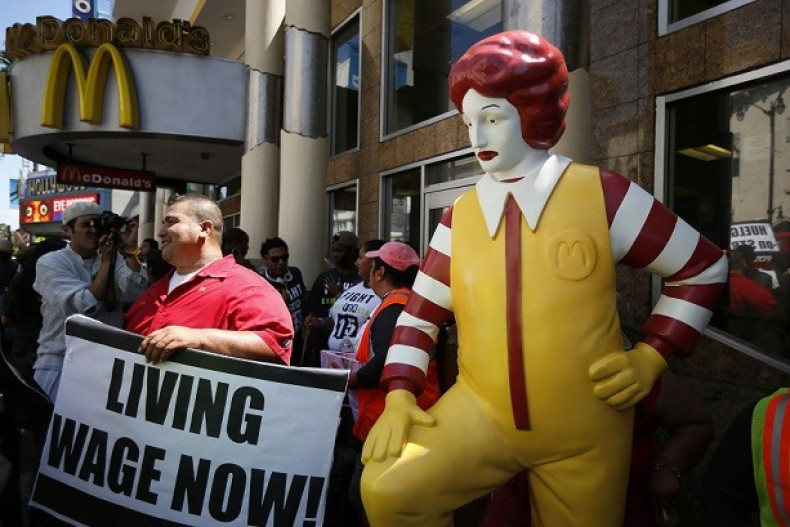 McDonald's has been criticised for advising its workers to eat less and sell their Christmas presents to reduce their debt.
The fast food chain also suggested ways workers could reduce stress and improve their health, including going to church, singing and taking at least two holidays a year.
Screengrabs from the employee-only website McResource were released by the anti-low wage group Low Pay is Not OK featuring tips from management they described as "offensive".
According to the McDonald's advice, taking at least two holidays a year cuts the risk of heart attacks by 50%, singing along to your favourite songs lowers blood pressure and breaking food into smaller pieces saves money by enabling you to eat less but still feel full.
The website also suggests ways employees, who earn on average $7.75 (£4.80) an hour in the US, can save money over Christmas. It says: "You may also want to consider returning some of your unopened purchases that may not seem appealing as they did. Selling some of your unwanted possessions on eBay or Craigslist could bring in some quick cash."
The company also suggests staff consider a second part-time job to "dig out of debt" quicker.
And staff are recommended that they should cut down on complaining. "Stress hormone levels rise by 15% after 10 minutes of complaining," it claims.
McDonald's has said the the advice was taken out of context and that Low Pay is Not OK was trying to undermine a "well-intended employee assistance resource".
"The McResource website has helped countless employees by providing them with a variety of information and resources on topics ranging from health and wellness to stress and financial management," it said.
McDonalds was already criticised for suggesting to one worker that she should apply for food stamps when she used the McResources hotline to ask for financial help.
Staff across the US have staged one-day protests to demand a wage increase to $15 an hour.