Big Macro: Bank Of Japan's QE Beefs-up Price of McDonald's Hamburgers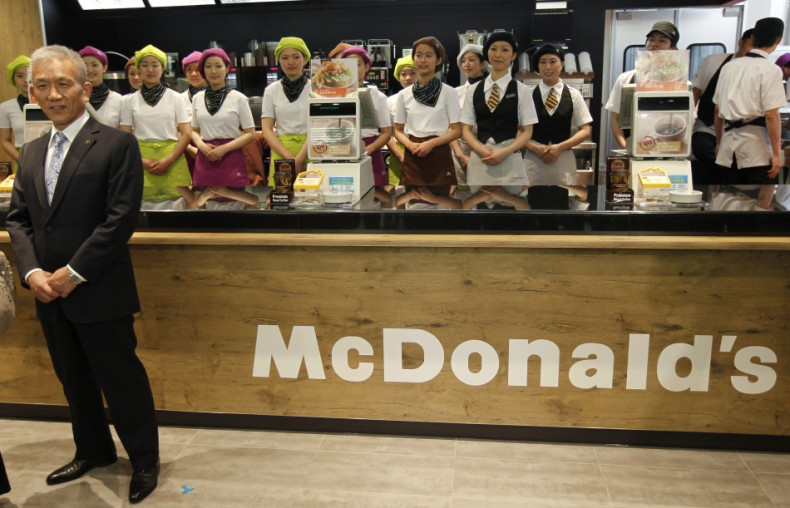 McDonald's Japan is planning a massive increase in the price of its basic hamburger to compensate for the weakening of the yen on international markets as the country's central bank doubles-down on its programme of zero interest rates and quantitative easing.
The Nikkei news agency has reported that McDonald's Japan is planning a 20 percent increase - to 120 yen ($1.22/£0.80) each - in the price of its iconic hamburger at domestic restaurants starting next month. Japan's yen has fallen around 19 percent against the US dollar over the past six months as investors anticipate the Bank of Japan's newly-affirmed fight against decades of deflation in the world's third-largest economy will lead to sustained weakness in the currency as policy makers target a 2 percent inflation target.
McDonald's Japan sells around 1.2bn hamburgers each year, according to industry estimates, and controls around 60 percent of the burger market share in that country. McDonald's Holdings Co. (Japan), the listed parent company, posted net sales of 294.7bn yen last year, down 2.5 percent from the previous year. The group has planned a series of promotions and discounts to ignite sales this year and has ear-marked the closure of hundreds of restaurants around the country.
In its latest sales update, McDonald's Corp, which owns around 50 percent of its Japan affiliate, said sales in the Asia-Pacific, Middle-East and Africa region fell 1.6 percent in February and cited "ongoing weakness in Japan."
Last November, the company said it would close an additional 110 stores over the next 12 months after it reported a 2.2 percent slide in 9-month sales and a 17.8 percent slump in operating profit.
The McDonald's price increases are significantly higher than official rates of inflation in Japan, which haven't accelerated past 2 percent since at least 1997. Core consumers prices in Japan - which include fresh food costs but strip out energy prices - fell an annual 0.3 percent in February, a slightly slower rate decline but still the fourth consecutive month of falling prices.
New Bank of Japan governor Haruhiko Kuroda has vowed to achieve a 2 percent inflation target within two years and plans to purchase as much as 7.5tn yen in government bonds each month in quantitative easing and double its monetary base.
The new strategy - first suggested by Prime Minister Shinzo Abe during his December election campaign - has had a hobbling impact on the Japanese currency, sending it to its biggest five day slide against the dollar in more than two decades earlier this year. Kuroda has insisted his policies aren't aimed at influencing a specific exchange rate, but the policy has worried central bankers and lawmakers around the world who fear the BoJ has opened a new front in the so-called currency wars to gain competitive advantage in global export markets.
Leaders from the so-called Group of 20 - the world's biggest economies - will meet in Washington this weekend to discuss issues impact the global financial markets and are expected to reaffirm a February pledge to "move more rapidly toward more market- determined exchange rate systems and exchange-rate flexibility."