11:30: McLaren press conference to announce line up for 2015 season
Jenson Button will partner Fernando Alonso for next season.
Kevin Magnussen to be retained as reserve and test driver.
Two-time world champion Alonso likely to become highest paid F1 driver.
Ron Dennis says "many reasons" held up confirmation of the line-up.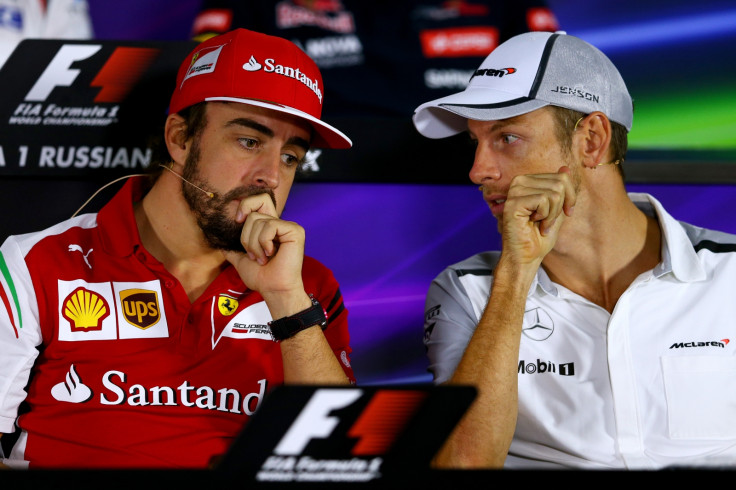 11:50: Dennis says performance of the 2015 McLaren car has been "impressive" but understandably doesn't go into much detail. Crash tests are being completed also.

11:47: Continuing, Dennis "makes no apologies" for the delay in the announcement. Moving on to more general matters, Dennis says two teams [Marussia and Caterham] are struggling to reach the grid for the Australia in 2015. He adds that a contract says the team can field a third driver, hence the retention of Magnussen. Very interesting.

11:44: Dennis says that Jenson has had "hurdles deliberately put in front of him" in the process of negotiating his new contract. The chairman confirms the decision went to the board of directors and they were discussed between Thursday and today, with the contract having only been signed in the last 12 hours.

11:41: Dennis on Alonso: "Here is one thing that hasn't change and that is Fernando's focus on winning. That sits well with our own focus. We desperately want to win." The McLaren chief adds that Alonso "has unfinished business," with the team. "Fernando is coming back and he's got to prove he's a winner and integrate with our team."

11:35: Kevin Magnussen is confirmed as the "third" driver for the new season. Ron Dennis now on stage, which before being questioned about the Button-Alonso axis, he is asked about the new McLaren-Honda partnership which rekindles the pair's relationship which won 44 of their 80 previous races together. "It takes time," Dennis says. "Domination is more challenging."

11:28: Button, Alonso and Magnussen have all taken their seats ahead of the start of the press conference. Magnussen and Button sitting together, who those interested. Alonso sporting an outstanding beard; this must seem all very regular to him. We're ready to get under way.

11:23: The big-wigs from inside the McLaren machine are taking their seats in front of me as we prepare for the unveiling. Eric Boullier, team director, is among them in the front row. He will have been very involved in the negocations with Jenson. I wonder which side he came down on?

11:19: Spare a thought for Kevin Magnussen this morning, who after enjoying a fruitful first year in Formula 1 is now the reserve driver for 2015. Magnussen may have only accumulated 55 points during the season but he matched Button stride-for-stride in the qualify sessions and only missed out when it came to race day. With many teams having already finalised their line-ups for 2015, this was very much do or die for Magnussen and he must face taking a backward step in his career.

11:14: Bit of confusion at McLaren HQ but appears we're having to wait until 11:30 to hear from both Button and Alonso, who at £25.5m over two years will become the highest-paid F1 driver on the circuit. The Spaniard is regarded among many as the best driver in the world, despite having not won a world title since 2006 and the dynamic between himself and the experienced Button will be fascinating heading into 2015.

10:55: After being asked to assemble in Woking, but then making the announcement via Twitter with no physical press release, McLaren have moved the press into a seated area with an expansive sofa, presumably which will house both the drivers for the 2015 season. All a bit mysterious it has to be said.

10:47: We're due to hear from Button, Dennis and Alonso from around 11:15am and it's likely the main questions will surround the delay of the announcement, particularly the "many reasons" cited in the release, as well as the thinking behind the demotion of Magnussen. Some of my Danish colleagues are not best pleased.

10:43: Finally, here are some comments from Fernando Alonso who says he had other offers before agreeing to return to McLaren last year:

"Over the past year I have received several offers, some of them really tempting, given the current performance of some of the teams that showed interest," the Spaniard said. "But, more than a year ago, McLaren-Honda contacted me and asked me to take part, in a very active way, in the return of their partnership – a partnership that dominated the Formula 1 scene for so long."
10:39: McLaren chief-executive Ron Dennis has been speaking also about the negotiations with Jenson:

"For many reasons our negotiations with Jenson took quite a long time, but, now that they have been concluded, we are confident that our collaboration with him will continue to thrive in the future every bit as well as it has in the past," he said.
"Make no mistake about it, Jenson is 100% committed to McLaren-Honda, to Formula 1, and to winning."
10:36: Here is Jenson Button on being retained for the 2015 season alongside Fernando Alonso:

"I am extremely excited to be embarking on my 16th year in Formula 1 and my sixth season for McLaren," he said.
"Like Fernando, I am certain that McLaren and Honda will achieve great things together, and I feel sure that, working together, all of us will pull incredibly hard to create a brilliantly effective winning team."
10:35: The confirmation we've been waiting for:

10:33: Speaking with some Danish journalists they are convinced that Magnussen - who finished 11th in the drivers' championship in 2014 - will be retained ahead of Button, the 2009 world champion. Many began their trip from Denmark at 4am this morning for the announcement. Sounds like someone will be disappointed.

10:30: The day is finally here. After weeks of speculation McLaren are finally ready to announce their team line-up for the new 2015 season. With Fernando Alonso all but confirmed as the No.1 driver for the new campaign, current incumbents Jenson Button and Kevin Magnussen are fighting for the final spot. The Brit, reports claim, has won the race to the second seat but we await the reasoning and terms behind the deal, not least what will become of Magnussen, who impressed in his first season in Formula 1. The world's media have gathered at the McLaren Technology Centre in Woking ready for the announcement which is due to take place any minute now.