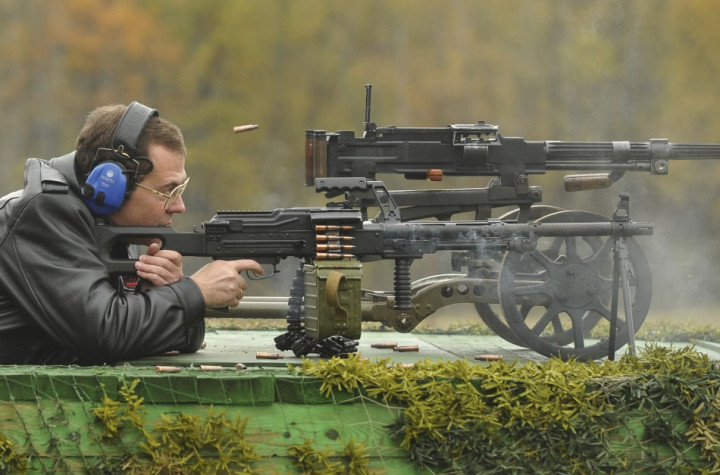 Russian prime minister Dmitry Medvedev has said that the official recognition of the new Syrian opposition group by the UK and other nations is unacceptable.
In an interview with Agence France-Presse and Le Figaro ahead of his visit to Paris, Medvedev slammed France's proposal to arm Syrian rebels but defended Moscow's right to supply weapons to Bashar al-Assad.
"From the point of view of international law, it is absolutely unacceptable to support the main political faction opposing a country's legitimate government," Medvedev said. "No state can take measures aimed at the forced change of a government in another state.
"Our military cooperation [with Syria] is not new and it has always been open and lawful. We have never supplied Syria with equipment banned under international conventions."
He added that all weaponry Russia provided was for defence "against attacks from external forces".
He maintained that Russia was neutral. It "condemns the actions of the government for the level of violence in the country and the actions carried out by the opposition, as they are also spilling blood", he said.
"Eventually the result is a civil war."
About 40,000 people are believed to have died in the 20-month conflict. However, Medvedev said there was still room for opposition forces to come to power in a "legal way".
"It is to the Syrian people and the opposition forces to decide the personal fate of Assad and his regime, [but] in a legal way, and not by means of weapons supplied by third countries," he said.
Britain's foreign secretary William Hague joined France, Turkey and six Gulf states in defining the National Coalition of the Syrian Revolutionary and Opposition Forces as the "sole legitimate representative" of Syrian people.
The Russian government, led by President Vladimir Putin, has been severely criticised for its support to Assad. Russia and China's veto in the UN Security Council has blocked several resolutions to impose sanctions on Syria.
In 12 months, Russia has sold to the Syrian regime $1bn of weapons, the Moscow Times reported.
Earlier in October, Human Rights Watch reported that Assad was bombing Syrian towns with Soviet-made cluster bombs.