They were once friends and labelmates but the bromance between Meek Mill and Wale is well and truly over. In an interview with radio station Power 105.1's The Breakfast Club, Wale declared Mill, 28, the loser in his highly publicised feud with Drake, prompting his fellow Maybach Music Group rapper to hit out on Instagram.
Speaking to hosts Charlamagne Tha God, DJ Envy and Angela Yee, Wale, 31, addressed Mill and Drake's bitter row, which started in July and resulted in three diss tracks. He said: "Somebody be off the drink... I honestly think he brought a pencil to a gunfight. He ain't even bring a knife — a pencil. A piece of paper.
Belittling Mill's attempts at accusing Drake of using a ghostwriter, the Lotus Flower Bomb rapper continued: "[Mill] tried to paper cut [Drake] to death. You can't compete with somebody that got them type of relationships. I'm tellin' everybody who thinks that Meek lost this of the strength of losing. It doesn't matter what he made. He could've wrote 'Ether 3.0' and the opinions of the people would've been that their boy from Canada waxed him."
I'ma Boss rapper Mill erupted in anger via Instagram and posted a rant, which read: "N****s b doing all this to drop a new record gossiping about they h*e a*s feelings and they personal life because they miserable and nobody don't rock wit them! Really stay away from me Fam! U not MMG NOMORE! This why u can't get my number you a h*e! and u dead cracked right now@wale foh nuttttt!"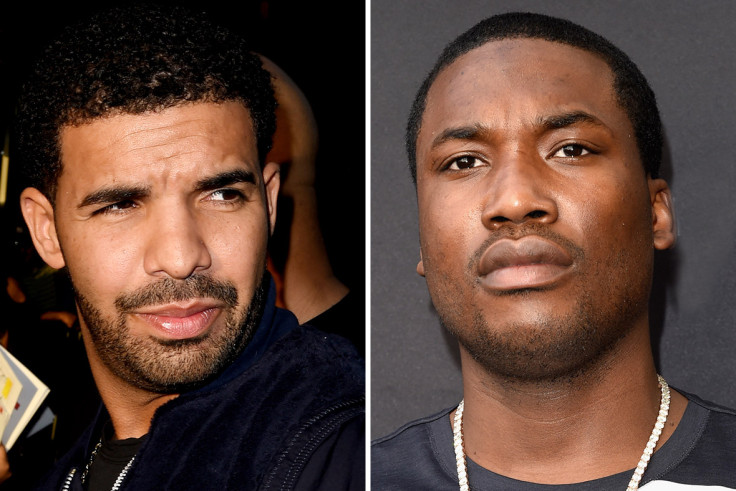 Mill then took the row to another level and suggested Wale should "jump off a roof" before labelling his former friend a "broke rapper". According to Mill, Wale is no longer allowed to be a part of Rick Ross's MMG label to which they are both signed, adding: "He not MMG IM MAKING THAT CALL ... He been tryna call me saying Rozay owe us money... He don't owe me s**t and if he do I'll get it later .... Go that away!"
Following the outburst, Wale responded via Twitter, simply joking: "Currently Lookin for a roof." It seems Mill may be alone in his dislike towards Wale as label boss Ross spoke out in support of the latter, promoting his new single with DJ Khaled and stating: "Never question THE EMPIRE."
Mill and Wale have a turbulent history with each other having feuded in the past. In 2014, Wale upset Mill when he did not tweet support for the announcement of his album title, Dreams Worth More Than Money. Similarly a year later, Mill's feud with Drake started when the Young Money rapper did not mention the album's release on Twitter.
Watch Wale's interview with Power 105.1's The Breakfast Club: