Forget about flying a drone in the air to capture photography for commercial purposes – the latest craze is owning a small one that can follow you around and take photos and videos of you autonomously.
This is the concept behind Lily, a quadcopter drone that you throw into the air and which will then start flying and hovering around you to capture what you are doing, whether it be snowboarding down a hill, diving off a clifftop or just wanting to capture your family's celebration in the back garden.
Lily is the brain child of several graduates from UC Berkeley's robotic lab and it can film HD 1080p video at 60fps or 720p video at 120fps, as well as generating 12mp images, which are stored on a 4GB microSD card.
It also comes with a tracking device you can strap to your wrist so Lily knows where you are. If it loses the signal, it will hover in place trying to locate it again, and land if it can't.
The unmanned aerial vehicle (UAV) can only fly a maximum height of 15m but at least 1.75m above you, and when it runs out of battery after 20 minutes of flying time, it will land immediately away from the user.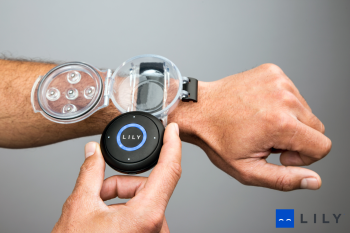 Although Lily's technology is interesting, it is not the first personal photography drone on the market. That accolade goes to Zano, a nano-drone controlled by a smartphone app that flies from your hand to do exactly the same thing – allow users to take footage of themselves.
Zano, created by Wales-based aerospace and defence technology firm Torquing Group, was launched on Kickstarter in November 2014 and was so popular it achieved over £2m ($3.15m) from backers.
Rather than a tracking device, the user controls Zano through a smartphone app, which also tells the drone where you are.
Measuring 26.1cm x 26.1cm, Lily is much bigger than Zano's tiny 6.5cm x 6.5cm build. Lily is available for pre-order on its website for $499 but it will cost $999 from 16 June onwards and will be shipped in February 2016.
In contrast, Zano went for £139 on its Kickstarter campaign and is now available from £169.95, but the Zano White and Zano Black will only be delivered to early backers in July.