It's a damp morning. Like most Londoners, Marley is heading into work, ready to start his day. But Marley is not like most Londoners. He's a therapy dog helping the elderly who suffer from dementia. September is World Alzheimer's month, so he has a lot on his muzzle at the moment.
The NHS describes dementia as "an ongoing decline of brain functioning". There's a wide range of symptoms, from memory loss to apathy, and it mostly – though not exclusively – affects the elderly. Those who suffer from dementia lose interest in their usual activities and their personality traits may change. Their emotions are unpredictable and social interactions are a challenge.
This is where Marley becomes important.
Research proves interacting with animals is good for humans. For starters, it lowers blood pressure. It also eases our interactions with other people.
In 2015, a study by Takefumi Kikusui, an animal behaviourist at Azabu University in Japan, found that just staring into a dog's eyes releases oxytocin, which is the "happy" hormone. Humans release the exact same hormone when bonding with an infant, which explains why dogs are used as a form of therapy.
In 2011, French researchers found that interacting with a dog helped children with autism develop greater social skills. It also helped veterans to cope with PTSD.
For the elderly, dogs have a multitude of benefits, mainly companionship. But for people in care homes, pets are a no-go. This is except for dogs like Marley, who comes only weekly. His owner, Lisa, takes him every Monday to visit the residents of The Meadow, a care home in Muswell Hill, North London.
They're part of the TheraPaws programme, managed by charity and animal home The Mayhew. Mayhew has around 50 teams just like Lisa and Marley, who visit hospitals, hospices and care homes all over London.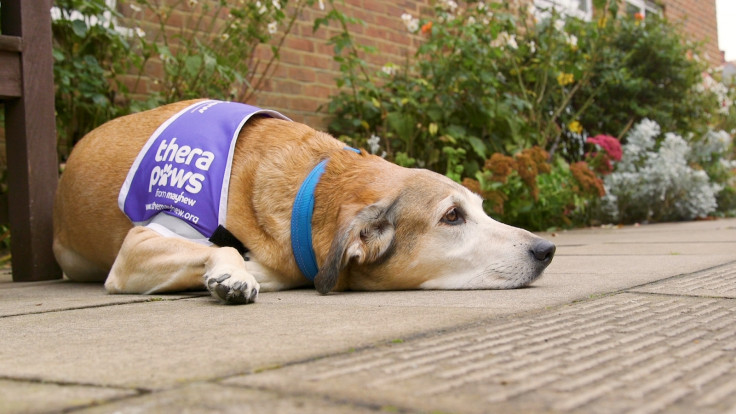 The Meadow residents all suffer from at least one form of dementia. They forget where they are, who they are and who they are with. But they remember Marley's name. When he enters the room, they light up. Marley will stay in the home for about an hour. He goes from resident to resident, sometimes paying visits to private rooms.
It would be easy to assume that the only thing Marley brings to them is comfort. But it's not just about a few cuddles. Dogs sometimes manage to "unlock memories", even when the dementia has reached an advanced stage.
"They really help tackle loneliness and depression," says project Manager of TheraPaws Luke Berman. "And it really helps them to have clear communication, think about things they haven't thought about for a long time, and it brings emotions to surface as well which is really powerful."
People with dementia often become apathetic. Getting them to feel any sort of emotion is key to connecting with them. Families and friends sometimes fail to engage with a loved one because of dementia.
A dog will manage to get through to them. "It's something about how an animal – a dog – is non-judgemental, happy to see everyone," Berman says. "It gets someone into a happier state, a looser state, where they're more likely to trigger a memory then be happy to talk to a person."
Playing with a dog also helps residents physically. For instance, it preserves their sense of touch. Touching things is an important part of communication, as it helps bond us with people we're talking to. "Touch is the last sense that we lose," says Luke. "So it's very important for people to still be doing that."
Volunteers – both human and canine – are assessed and trained by TheraPaws. And the way Lisa guides Marley around the room is no accident. "When I give the residents treats [to give to Marley], it's really wonderful for their hand-eye motor coordination. It's very good for them to hold the treat and recognise when to let go, to re-establish the cognitive behaviour."
"There's moments of stillness, moments of amazing little miracles," she adds, recalling an instance when a resident's tremors stopped as they touched Marley's head.
Once Marley's gone, the residents continue talking about him to the home activity manager. One resident, Bernie, remembers going to see her friends' horses when she was younger. But another, Mary, reverts back to her apathetic self immediately.
More care homes and hospices are investing in "house dogs", but for many people, initiatives like Mayhew's TheraPaws is the only option. People like Bernie and Mary would highly benefit from a daily visit by a therapy dog. But for that, Mayhew's and similar associations would need more volunteers and more funds.
After his hour of intense work, Marley is ready to nap. He's going home with Lisa. World Alzheimer's Month will end soon, but his regular visits to The Meadow won't. Some residents are already awaiting his return.