If Britain's Got Talent showed us anything, all TV shows could be made better with the introduction of dogs. Imagine the Great British Bark Off or I'm a Pomeranian, Get Me Out of Here... the possibilities are endless.
One company has luckily had a similar thought. Campsite marketplace campsites.co.uk has said they will be running the UK's first 'canine stud camp' - aka 'Love Island for Dogs'.
But it's not just the name, the company says the camp will include Love Island-themed events. The event will be aimed at breeders and dog owners who are looking for the perfect partner for their pooches. The event will include a seminar on responsible breeding and puppy care.
Depending on interest, the stud camp would run over a weekend next year in Devon. Along with breeding-focused events, the camp will have a 'Pied' section where dogs that weren't lucky with love can eat their problems away and a 'stick it on him' mixer where dogs can wear different doggy pheromones to see whether any attract a pooch mate.
Bedding, water and food will be provided for the dogs, but owners will have to bring their own camping equipment. The initial event is hoping attract 60 humans and 30 dogs, with plan to roll out the stud camps nationwide if they find success.
On the Sunday, a winner doggy couple will be crowned after voting throughout the weekend and both receive a bag of treats, a year's pet insurance and a dog wedding ceremony package.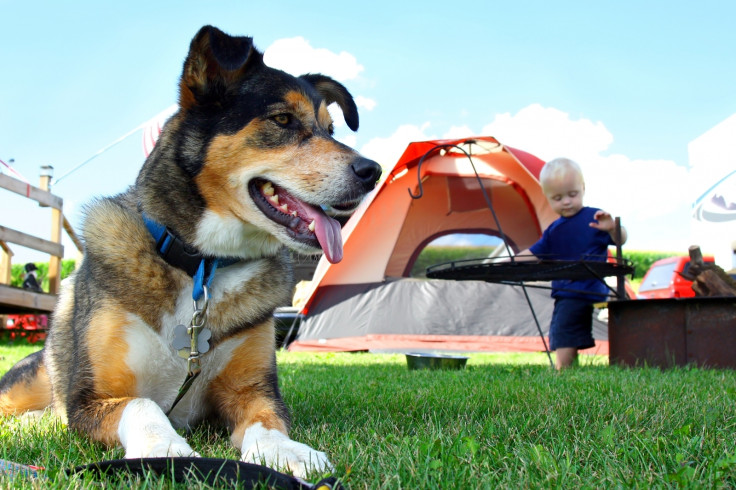 Campsites.co.uk founder Martin Smith said : "One of the most frequently asked questions on the site is whether a campsite is dog-friendly. It's really common for Brits to take their dog on holiday with them, and seeing as flying with a pet is somewhat tricky, camping is the best alternative! More and more campsites are becoming dog-friendly and with recent RSPCA statistics saying there are now 8.5 million dogs in the UK, I'm not surprised!
"We decided to really tap into this market of dog owners and introduce a unique yet very practical camping experience. Breeding can often become complicated, where do you even start? So we thought to make things easier, we'll bring everything together in one place, where like-minded people can get together, have a great weekend and leave knowing they'll have a beautiful bundle of puppies soon!"