Melissa McCarthy returned to Saturday Night Live as Sean Spicer in spectacular fashion, locking lips with Alec Baldwin's US President Donald Trump as tensions peaked between the pair over Russian collusion claims and the firing of former FBI Director James Comey.
Anticipation for the latest skit on Saturday (13 May) had grown throughout the week when McCarthy was seen filming on the streets of New York. However, proceedings opened with her Spicer impersonation dismissing Deputy White House Press Secretary Sarah Huckerbee Sanders (played by Aidy Bryant), from her duties.
Initially hiding among the bushes — playing on reports that Spicer concealed himself near shrubbery to avoid questions over Comey — McCarthy stormed the press briefing room with a fire extinguisher to put the "pants out" of the press for lying, before declaring: "Spicey's back, Sarah's out. Let's do this."
Facing questions over Trump's mental state amid a series of tweet storms, McCarthy's Spicer then claimed that "If he's crazy, he's crazy like a fox with mental problems."
The sketch next addressed questions over the firing of Comey, amid an ongoing investigation between Trump's links suspected Russian attempts to influence the US election.
Promising reporters that there was no truth to the claims because Trump "told us so", the Spicer parody then explained the official White House line through a series of Russian dolls, with Ghostbusters' monster Slimer standing in for Executive Steve Bannon and Pikachu for Attorney General Jeff Sessions.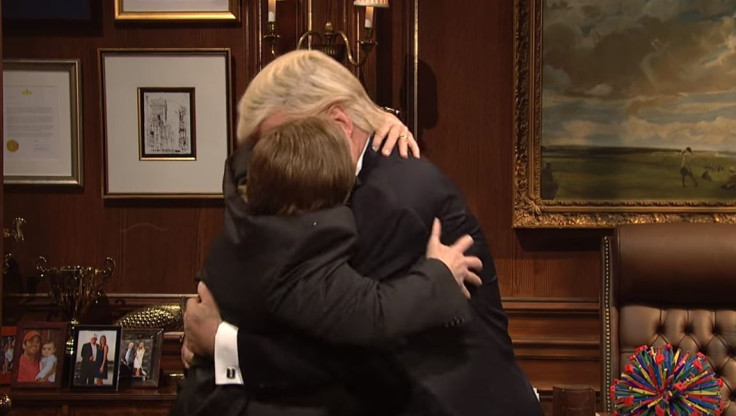 But, for all the usual diversionary tactics deployed to allay the media, the beleaguered press secretary eventually cracked amid ongoing speculation from the reporters that he may lose his job.
Self-doubt rising, McCarthy's Spicer mumbled "he wouldn't do that, he's my friend", before setting off on his motorised podium through New York to confront his employer.
Arriving at Trump Tower, Spicer challenged Trump in the sketch, only for the angst to turn to romance. As the pair edged toward a kiss, Spicer blurted "I took vows," in a futile act of final resistance.
"I'm famous, it's OK" replied Baldwin's Trump, referencing his infamous Access Hollywood video, before engaging in a passionate embrace with his "favourite spice"