J.K. Rowling has sparked a potential Twitter war with US President Donald Trump by using a quote from The Mad Hatter in Alice in Wonderland to mock his latest 'fake news' outburst.
The Harry Potter author, familiar with the world of fantasy, responded after Trump lambasted "Fake Media" and threatened to cancel all future press briefings.
Irked by reports of conflicting White House explanations for the firing of former FBI Director James Comey, in a flurry of tweets on Friday (12 May) the president wrote "The Fake Media is working overtime today!
"As a very active President with lots of things happening, it is not possible for my surrogates to stand at the podium with perfect accuracy!
"Maybe the best thing to do would be to cancel all future 'press briefings' and hand out written responses for the sake of accuracy???".
In response, Rowling uploaded a screenshot of the messages, before turning to literature to deliver a withering assessment in the caption.
Quoting Lewis Carroll's fantastical 1865 novel Alice in Wonderland, she wrote "'I don't think–' 'Then you shouldn't talk,' said the Hatter."
The reference to The Mad Hatter, known for his childlike emotional state, particularly in the 1951 Walt Disney adaptation, could also be seen as a further jibe at Trump's apparent lack of temperament.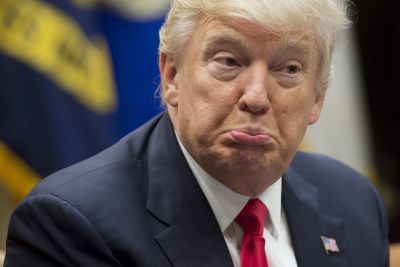 Politically outspoken
Rowling's Twitter riposte is far from her first political intervention on the social media network. In 2015, the British author valued at $1bn (£775m), expressed solidarity with refugees struggling to escape conflict throughout the Middle East.
After thousands of refugees died attempting to cross the Mediterranean, the author retweeted messages criticising the alleged "unwillingness" of then British Prime Minister David Cameron to help refugees.
Rowling then wrote "If you can't imagine yourself in one of those boats, you have something missing. They are dying for a life worth living. #refugeeswelcome".