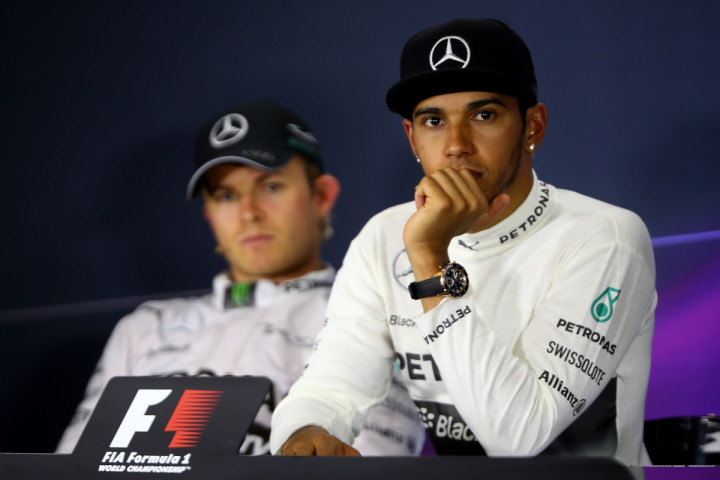 The relationship between Mercedes drivers Lewis Hamilton and Nico Rosberg reached an all-time low following the Belgium Grand Prix on Sunday. Whatever shred of friendship remained following the team order fiasco in Hungary is over after the Briton came out and revealed details of the post-race team meeting at the Spa-Francorchamps circuit.
The incident occurred during the second lap of the Belgium Grand Prix, when pole-sitter Rosberg clipped the back of Hamilton's car while trying to re-take the lead he lost at the start. The collision occurred at the Les Combes chicane.
Even though Rosberg damaged his front wing in the collision, it was the former McLaren driver who came off worse when he suffered a rear tyre puncture that cost him a lot of time and positions. Hamilton continued to race at the back of the pack, but eventually retired in order to preserve the power unit for the upcoming races.
The 29-year-old driver was livid post the race and didn't hide his frustration when asked by the media about his thoughts on the incident with his German team-mate.
"It looked quite clear to me but we just had a meeting about it and he basically said he did it on purpose. He said he did it on purpose, he said he could have avoided it. He said 'I did it to prove a point'. And you don't have to just rely on me, go and ask Toto [Wolff], Paddy [Lowe] and all those guys who are not happy with him as well," Hamilton said, as quoted by ESPNF1
"I was gobsmacked when I was listening to the meeting. You need to ask him what point he was trying to make."
"He just came in there and said it was all my fault. Just came in there..." the former McLaren driver continued.
Hamilton is unsure of how the team is going to handle such an incident, and this is not the first time the team has to deal with it.
The first incident occurred as early as the third race of the season in Bahrain, when the British driver cut across his German team-mate almost causing a collision. This infuriated Rosberg and the most recent one prior to this race was at the Hungaroring, when Hamilton ignored team orders and did not let Rosberg through. All reason enough for Rosberg to 'prove a point' to his team-mate.
"I can't imagine what the team would do now. We came in to this weekend and I came with a really positive mind thought. I really was excited ... we've got eight races and we're close - there's only 11 points in it - and I thought it was going to be good for all of us. Good racing, I thought this was going to be a track that was going to be exciting."
"It's interesting because we had that meeting on Thursday and Nico expressed how angry he was - I was thinking 'It's been three weeks and you've been lingering?!' He expressed how angry he was, he literally sat there and said how angry he was at Toto and Paddy. But I thought we should be good after that and then this result ... it's interesting," Hamilton added.
However, Rosberg, who was also talking to the press at the same time, has refused to apologise directly to the driver and sees it as a pure racing incident.
"As drivers, we are here to entertain and to show the fans a good time, so our duels are always on the limit. I regret that Lewis and myself touched, but I see it as a racing incident - just as the stewards did. I was quicker down the straight and went to the outside as the inside line was blocked," Rosberg said.
"I gave it a go and, after we touched, I realised that my front wing was damaged and thought that was it. In the next second I saw that Lewis also had a problem, which was very unfortunate for him and for the team," the former Williams driver added.