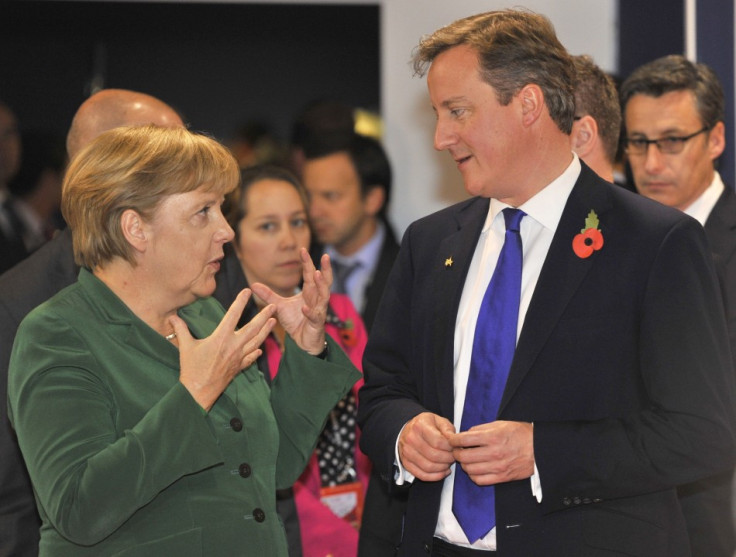 A tense meeting between German Chancellor Angela Merkel and British Prime Minister David Cameron is expected in Berlin Friday as the pair thrash out their differences on a number of crucial issues.
The biggest clash in the rendezvous is likely to come over the EU's demands for a Financial Transaction Tax (FTT), also known as the "Robin Hood Tax" or Tobin Tax, which the British government has ruled out adopting.
The government says the tax would leave Britain contributing 80 per cent of the revenue raised from an EU FTT, which would go to the European budget, owing to the size of Britain's financial sector.
If the FTT is adopted, argues the government, 500,000 British jobs will be lost and the country will lose billions as financial businesses fled to competing countries with lower taxes.
Cameron and his Chancellor, George Osborne, say they will only consider an FTT if it is applied globally, so no countries lose out.
Merkel is said to be "furious" that Britain is opposing an EU-wide adoption of FTT.
Osborne says it would be a "bullet into the heart of London".
The Adam Smith Institute, a leading free-market think tank, published a report arguing that FTT would "damage Europe's competitiveness, suppress its economic recovery and increase volatility and unnecessary risk within the European markets."
Another headache for the Cameron-Merkel meeting will be over the role of the European Central Bank.
Cameron wants the ECB to be used to bail out struggling countries, but Merkel says Germany will not allow this to happen.