German Chancellor Angela Merkel dealt an immediate blow to Theresa May's plans for negotiating Brexit as she ruled out the prospect of trade talks until Britain officially leaves the EU.
May had hoped that Britain could outline its future relationship with Europe parallel to its departure from the bloc. However, Merkel insisted the two steps must be done separately.
It follows the delivery of May's six-page letter to European council president Donald Tusk, formally triggering Article 50, where the prime minister stated it was "necessary to agree the terms of our future partnership alongside those of our withdrawal from the European Union".
However, addressing reporters at a press conference in Berlin, Merkel said: "The negotiations must first clarify how we will disentangle our interlinked relationship ... and only when this question is dealt with, can we, hopefully soon after, begin talking about our future relationship."
Merkel's derailment means Britain may not know what its future relationship with Europe will look like for years to come, and not before the next general election in 2020.
The likely outcome will mean a transitional agreement will need to be put in place until final trade deals can be negotiated.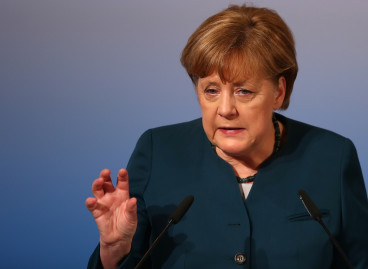 Merkel's comments come as Tusk said of Brexit that "there is nothing to win in this process" and "in essence, this is about damage control".
However, in the same address, the German chancellor said she aims to make the process between Britain and the EU as painless as possible.
"For many people in Europe, Great Britain's intended departure from the EU is connected to very concrete worries about their own personal future," she said.
"This goes especially for the many Germans and European citizens living in Great Britain. Therefore, the German government will work intensively to make sure the effect on the everyday lives of those people is as small as possible.
"I wish for Great Britain and the EU to remain close partners. To me, the United Kingdom remains a part of Europe with whom we share a lot, not least our common values."