Britain's Brexit negotiations have got off to a bruising start after Prime Minister Theresa May was accused of trying to "blackmail" the European Union.
The heated charge came as May set out the principles she believes should shape the future of negotiating Britain's departure from the Union in her letter to EU Council President Donald Tusk triggering Article 50.
However, only hours after the letter was hand-delivered by Sir Tim Barrow, the UK's EU ambassador, May was accused of putting lives at risk in order to secure a deal that was favourable to Britain.
The criticism was made after her letter stated that failure to secure a deal would mean Europe would no longer benefit from Britain's intelligence and counter-terrorism capabilities, despite hoping to continue a "deep and special partnership".
In her letter, May said: "The United Kingdom wants to agree with the European Union a deep and special partnership that takes in both economic and security cooperation.
"To achieve this, we believe it is necessary to agree the terms of our future partnership alongside those of our withdrawal from the EU.
"If, however, we leave the European Union without an agreement the default position is that we would have to trade on World Trade Organisation terms.
"In security terms a failure to reach agreement would mean our cooperation in the fight against crime and terrorism would be weakened."
Security is not a 'bargaining chip'
The European parliament's Brexit coordinator, Guy Verhofstadt, told a press conference in Brussels it was unacceptable that Britain's superior military and intelligence capabilities should be used as a bargaining chip.
"I tried to be a gentleman towards a lady, so I didn't even use or think about the use of the word blackmail," Verhofstadt said, reported the Guardian.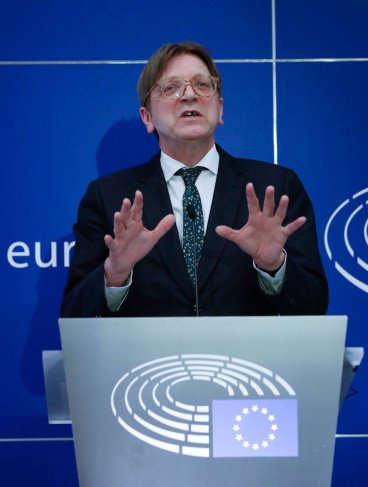 "I think the security of our citizens is far too important to start a trade-off of one and the other. Both are absolutely necessary in the future partnership without bargaining this one against the other."
Gianni Pittella, leader of the Socialist bloc in the European parliament, also told the Guardian: "It would be outrageous to play with people's lives in these negotiations.
"This has not been a good start by Theresa May. It feels like blackmail, but security is good for all our citizens and not a bargaining chip.
"We still hope that Theresa May can get back on the right track ... This was not a smart move."
Similar sentiments were expressed by the Liberal Democrat leader Tim Farron and Labour's Yvette Cooper. However, Home Secretary Amber Rudd insisted that May's letter was not a threat, only a reality of negotiations.
"If you look at something like Europol, we are the largest contributor to Europol," she said on Sky News.
"So if we left Europol, then we would take our information – this is in the legislation – with us.
"The fact is, the European partners want us to keep our information there, because we keep other European countries safe as well."
A government source told the Guardian it was the start of negotiations and so it is no surprise the government looks to be taking a tough stance.