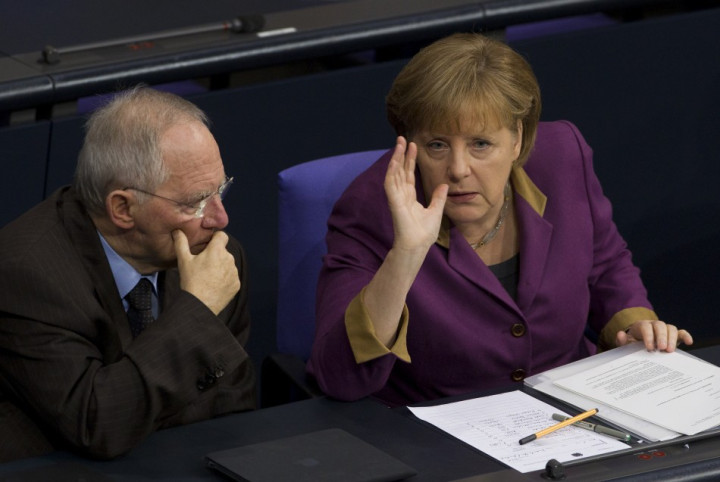 German Chancellor Angela Merkel says she is prepared to consider further debt relief for Greece to help alleviate the country's financial crisis.
But she added Athens will have to push through the economic reforms it agreed on with its international creditors to receive the concessions.
The remarks are in contrast to Berlin's hard line stance during last week's bailout negotiations and come days after German Finance Minister Wolfgang Schäuble said Greece may be better off leaving the euro.
"Greece has already been given relief. We had a voluntary haircut among the private creditors and we then extended maturities once and reduced interest rates," Merkel was quoted as saying in an interview to ARD TV by the BBC.
"And we can now talk about such possibilities again... once the first successful review of the programme to be negotiated has been completed, then exactly this question will be discussed – not now, but then."
She went on to say that "a classic haircut of 30, 40% of debt cannot happen in a currency union".
Last week, German lawmakers voted to formally open bailout negotiations with Greece despite Schäuble suggesting an exit from the eurozone may be "the better way" for Athens.
In an interview with Der Spiegel on 17 July, the finance minister maintained his hard line stance and appeared to issue a veiled threat to quit over differences of opinion with Merkel.
"Politicians' responsibilities come from the offices they hold. Nobody can coerce them," he said.
"If anyone were to try, I could go to the president and ask to be relieved of my duties."
'No one asked to be relieved'
But Merkel insisted there was no division within her coalition government and maintained that the rescue deal for Greece would move forward.
"The finance minister will, like me, conduct these negotiations. I can only say that no one came to me and asked to be relieved," she said.
The European Central Bank reopened funding to Athens on 16 July after Greek MPs backed legislation involving new austerity measures, including cutting pensions, raising taxes and liberalising the labour market, in exchange for an €86bn (£60bn, $93bn) bailout package from creditors.
Greek banks are set to reopen on 20 July after three weeks of closure, but strict capital controls, that limit per-week withdrawals to €420, will remain in place.