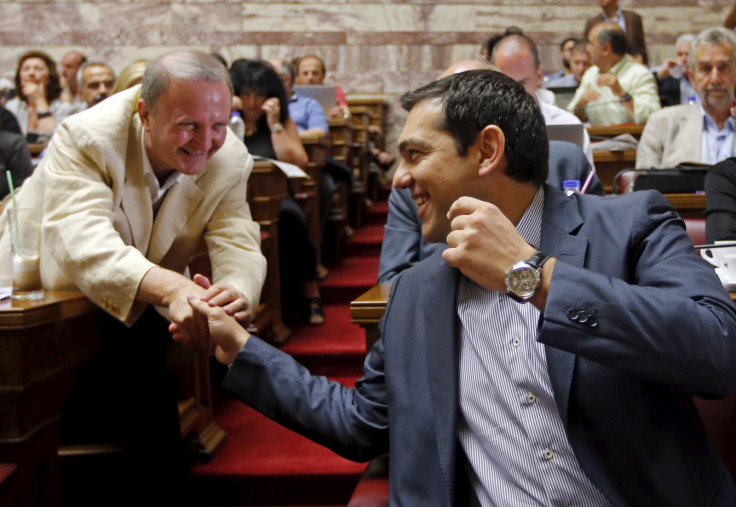 The Greek parliament passed a sweeping package of austerity measures that was a prerequisite for the start of talks on a third bailout package with the eurogroup as protestors clashed outside the parliament building.
The package passed with 229 votes in favour in the 300-seat chamber, carried through with the support of opposition parties. A total of 64 MPs voted No and six abstained.
It followed a stormy debate in which dozens of lawmakers from the left of the ruling Syriza party rebelled against Prime Minister Alexis Tsipras. A total of 38 Syriza lawmakers abstained or voted against the government. They included former finance minister Yanis Varoufakis, current Energy Minister Panagiotis Lafazanis, Deputy Labour Minister Dimitris Stratoulis and speaker of parliament Zoe Constantopoulou.
Constantopoulou walked out before the vote, before returning to make a speech condemning a "very black day for democracy in Europe."
Deputy Finance Minister Nadia Valavani resigned from her post saying: "I'm not going to vote for this amendment, and this means I cannot stay in the government."
Varoufakis said he believes that without International Monetary Fund
Reuters notes that the votes leaves the future of the Tsipras government unclear following the split in his party.
Greek Finance Minister Euclid Tsakalotos told MPs: "Monday was the most difficult day of my life. It's a decision that will weigh on me for the rest of my life. We had no choice. We never said this was a good agreement."
He said the effects of the bailout deal will be judged in the future and will hinge on political developments in Europe, the Greek Reporter said.
Banks are unlikely to open until a bailout deal is ratified, according to Prime Minister Tsipras and this could take another month, the BBC said.
The European Commission has formally proposed a short term €7bn loan for Greece through the EU-wide European Financial Stability Mechanism but this has been opposed by the UK and other countries that are not part of the euro but are EU members.
A British official in Brussels to the BBC that the UK government had no objection in principle to the use of the EFSM as long as British money was ring fenced from any liability.