German Tabloid Publishes Photo of Angela Merkel in Communist Uniform
German newspaper Bild publishes 1972 snap of young Merkel in East German military drill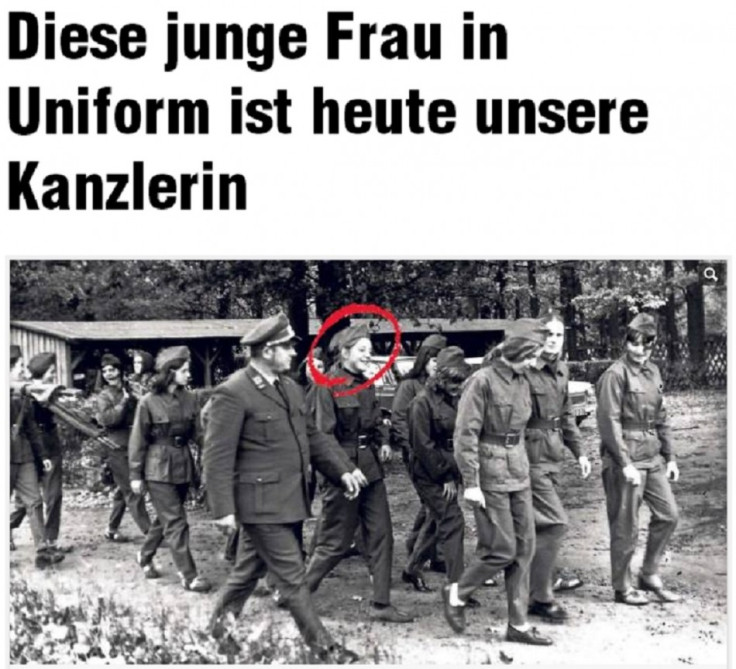 A previously unpublished picture depicting German Chancellor Angela Merkel wearing a commnunist uniform has been printed by one of the country's biggest tabloids.
In the 1972 snap, a 17-year-old Merkel, then known by her maiden name of Angela Kasner, is seen smiling as she walks amid fellow female students involved in a civil defence exercise.
The exercise was run by the government of East Germany, which was communist and part of the Soviet Union. Merkel grew up in the town of Templin, 70km north of the East German capital Berlin.
Newspaper Bild published the photo under the headline: "This young woman in the uniform is our Chancellor today."
The black-and-white photo was handed to the popular tabloid by Sonja Felssberg, 58, a schoolmate of Merkel who also took part in the training exercise.
All pupils had to attend a series of defence exercises by order of the government of East Germany, or the Deutsche Demokratische Republik (DDR).
However, a few months ahead of Germany's elections, the picture reinforces recent suggestions that Merkel had deeper ties with the communist establishment before the fall of the Berlin wall.
Merkel - the daughter of a Protestant pastor who moved his family from West Germany to the East in the 1950s - officially entered politics aged 35, as communism crumbled in 1989.
Merkel has admitted joining the Free German Youth, the communist youth organisation, for mainly social reasons as she grew up behind the iron curtain, but denies claims of deeper involvement in the communist system.
The First Life of Angela M, a book by German journalists Guenther Lachmann and Ralf Georg Reuth, suggests Merkel served as propaganda secretary for the youth organisation and was an active labour union official.
"Politically I lived an assimilated life. If I had always said what I thought, then my life would have been very different," Merkel said as the book hit the shelves earlier this month.
"What is important to me is that I have never hidden anything," Merkel said. "Perhaps I have not talked about other things because no one has ever asked me about them."
Merkel is to run for a third term in September.
Meanwhile, the German Chancellor topped the latest Forbes World's 100 Most Powerful Women list for the third year running.
Forbes Most Powerful Women Top 10:
1. Angela Merkel, German Chancellor
2. Dilma Rousseff, Brazil President
3. Melinda Gates, Co-Chair, Bill & Melinda Gates Foundation
4. Michelle Obama, US First Lady
5. Hillary Clinton, Former US Secretary of State
6. Sheryl Sandberg, COO, Facebook
7. Christine Lagarde, Managing Director, IMF
8. Janet Napolitano, US Homeland Security Secretary
9. Sonia Gandhi, President, Indian National Congress Party
10. Indra Nooyi, CEO PepsiCo
© Copyright IBTimes 2023. All rights reserved.