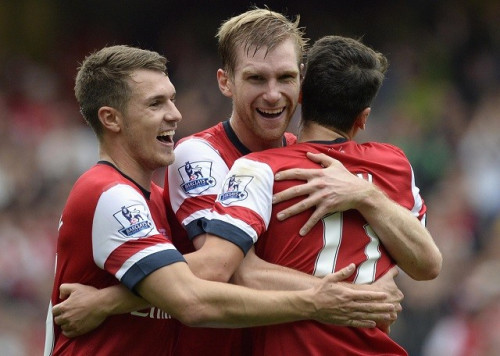 Per Mertesacker believes that Arsene Wenger was the key man behind the Gunners' change of fortunes after their 8-2 drubbing against Manchester United at Old Trafford two years ago.
The German international was brought to Arsenal straight after the loss and the 29-year-old has responded brilliantly after a lukewarm start to his Arsenal campaign when he was written off by pundits for being unsuited to the Premier League.
The German paired up with Laurent Koscielny to go on an unbeaten 32 game winning run before being beaten ignominiously by Liverpool at Anfield.
However, having secured a 0-0 draw against Manchester United and taking their tally of clean sheets to 12, Mertesacker is hoping that they can bounce back again and keep themselves in the title race.
The Gunners have turned their fortunes around in the past two seasons in the business end of the season where they hunted down deficits against the likes of Tottenham and manage to secure a Champions League berth.
It is a completely different prospect this year, where they are expected to challenge for the title, currently placed one point behind Chelsea in the title race.
When asked about the 8-2 loss, Mertesacker told talkSPORT, "Yeah, that was a big loss. But, for me, the first week was calm. It was impressive to see there was no press around the training ground and no fans – I expected more of a feeling of a crisis or something, but I didn't feel that. In Germany, we used to have press and fans all around us during training sessions."
"We made a lot of mistakes as a team – every player. But we learned quickly, and the manager is the key to that because he trusts the players. When we made mistakes – as I did a lot of times – he always said afterwards: 'You are good enough and intelligent enough to know what you did wrong, and now you have to prove to me that you understand.'
"That's what he always said when we had a few setbacks and now, after two and a half years, the squad feels more confident. That is down to the manager, because he stuck with the players and to the things he was doing," he concluded.