The 2016 Met Gala was an epic mix of art, fashion and technology. The theme for the event held on 2 May in New York was Manus x Machina: Fashion in an Age of Technology, and designers experimented with new age fabrics and metallic detailing for one of the fashion industry's biggest nights.
And who better to showcase all this couture than Hollywood's biggest names. Celebrities put their best foot forward with gowns that were simply stunning.
Kate Hudson's Atelier Versace white gown had a number of elements to it, which all managed to come together perfectly. Jourdan Dunn and Kim Kardashian's metallic numbers reminded us of C3PO – that were if C3PO had a superb sense of style.
Experimenting with latex, Beyonce's Givenchy form fitting number is sure to be one of the hottest topics of discussion for the rest of the fashion season, not to mention Zoe Saldanha's Dolce and Gabbana gown's feathered trail.
Our hats go off to Zac Poesen's baby blue gown worn by Claire Danes, which on the lights going dim, lit up like something that Hunger Games' designer Cinna might have created.
Check out IBTimes UK's list of the Met Gala 2016's best dressed celebrities: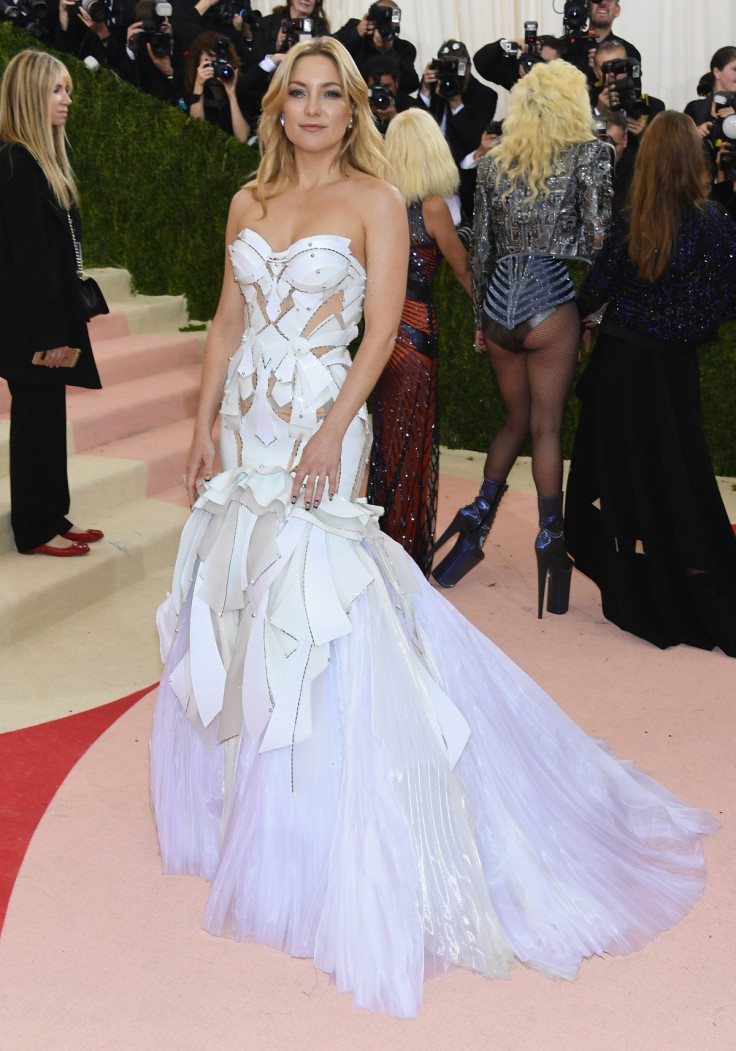 Kate Hudson in Atelier Versace
The 37-year-old actress' white cut-work Atelier Versace dress is sure to become the inspiration of modern brides soon, with its peek-a-boo see through portions, silver rivets and flowing accordion-pleated skirt.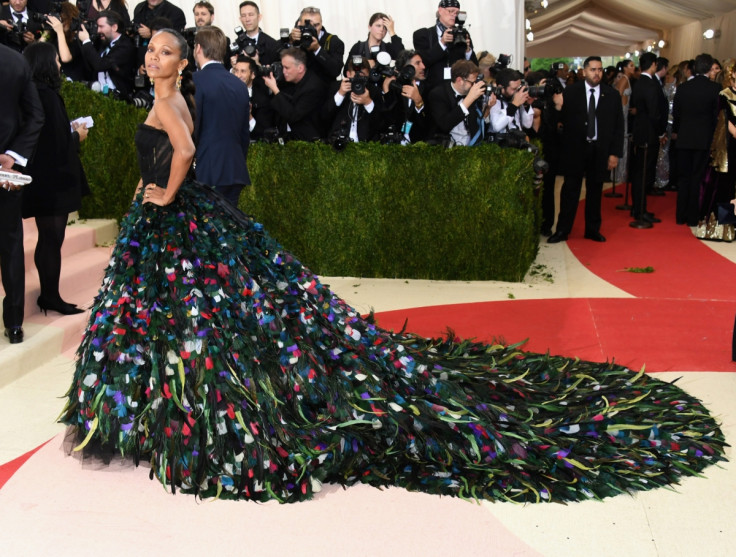 Zoe Sladanha in Dolce and Gabbana
The Avatar actress made jaws drop in a breath-taking D&G black gown that had an extravagant red, blue, yellow, green and white feathered trail, complimented by a lace corset.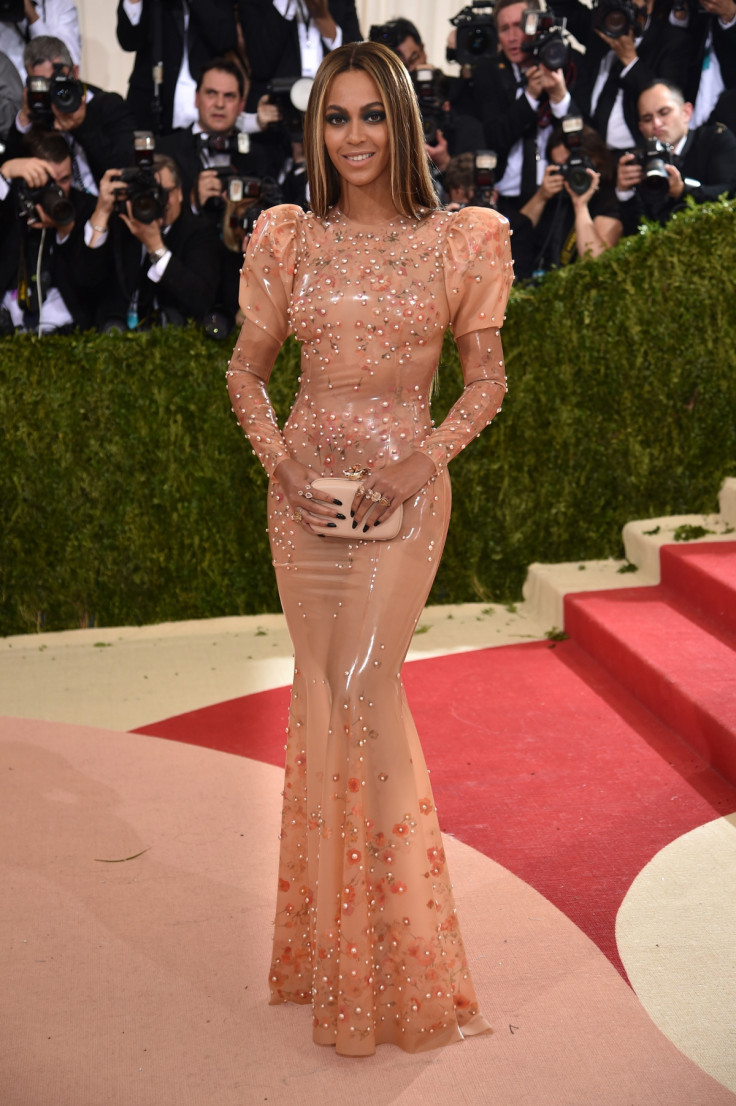 Beyonce in Givenchy
Beyonce may have been one of the last of the big stars to walk the red carpet, but what an impression she made in her latex Givenchy gown that fit like second skin and looked a lot like it too. The nude coloured gown had floral pearl detailing and puffy sleeves which the Lemonade star managed to pull off.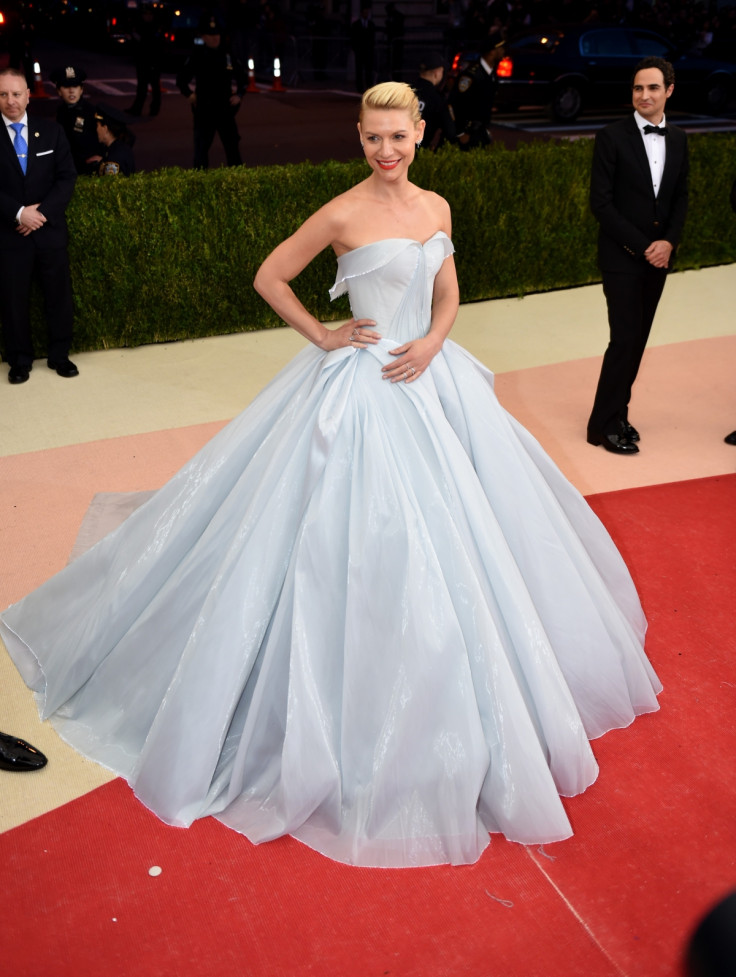 Claire Danes in Zac Poesen
Zac Poesen worked with the theme of the evening beautifully with his baby blue gown which Claire Danes wore. When walking the red carpet, the dress looked like a typical Disney princess costume, but when she entered the Gala where it was a whole lot darker, her LED dress lit up and shimmered.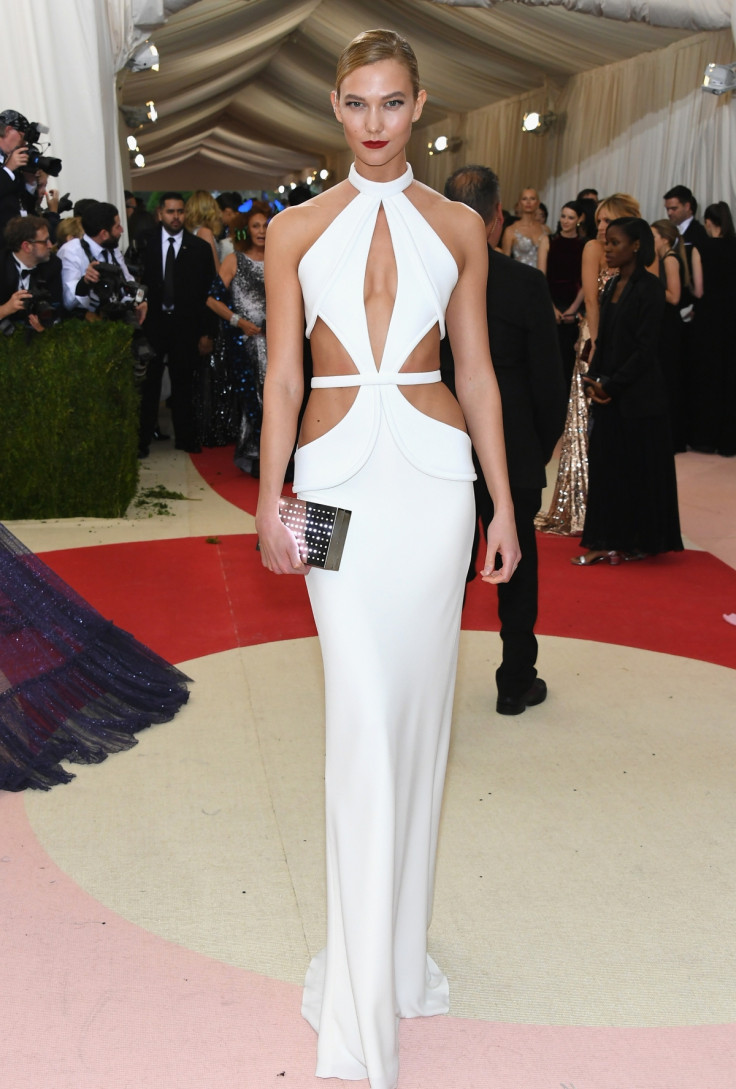 Karlie Kloss in Brandon Maxwell
Karlie Kloss showed off her statuesque figure in a Brandon Maxwell number that displayed a lot of skin. The white dress had a key-hole cleavage showing front along with large side cuts that dipped all the way from below her bust, right down to her hips.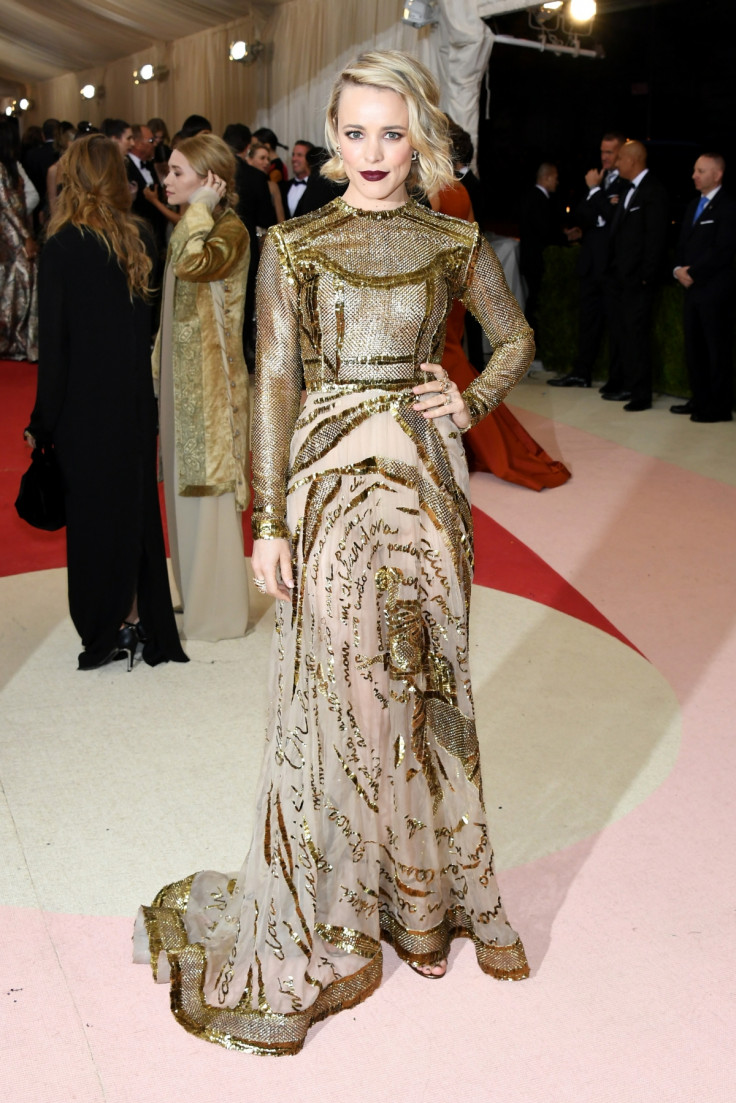 Rachel McAdams in Valentino
Inspired by Goth glam, Rachel McAdams wore a gold and sheer high-necked Valentino gown with golden writing all across the skirt. She topped it with dark plum lipstick and beachy waves.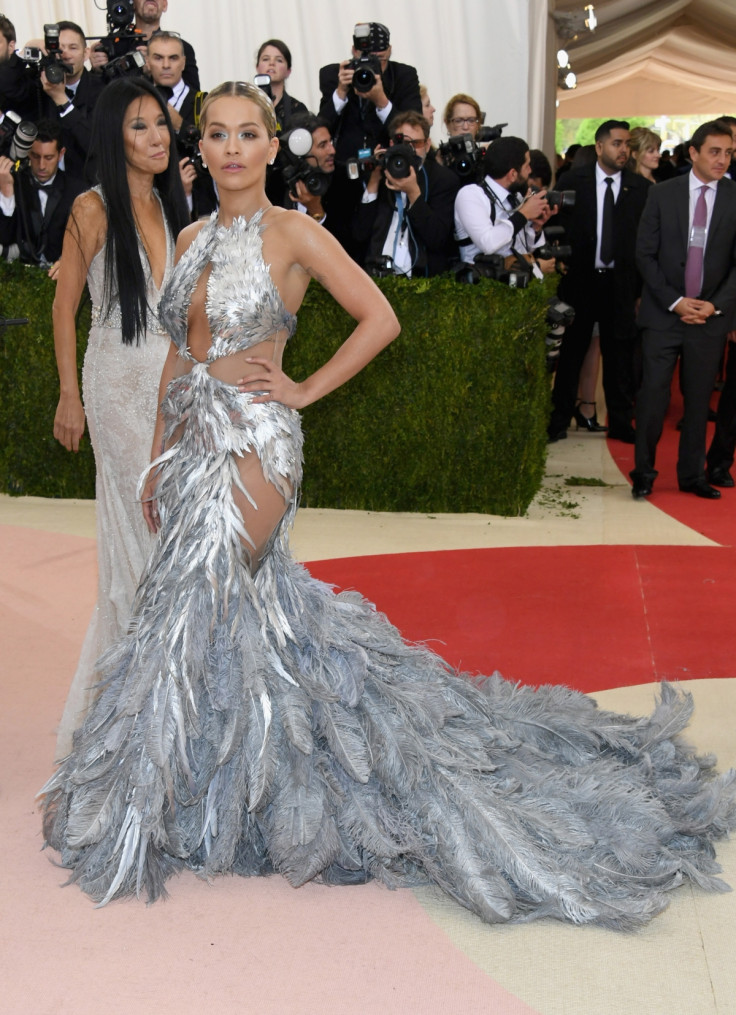 Rita Ora in Vera Wang
Rita Ora had cameras flashing when she walked the red carpet in a silver feathered dress with large side cuts and a serious amount of leg showing. Like Zoe Saldana's dress, this one too had an impressive trail. Allowing attention to be focused on the dress, Ora complimented it with a pair of simple diamond studs.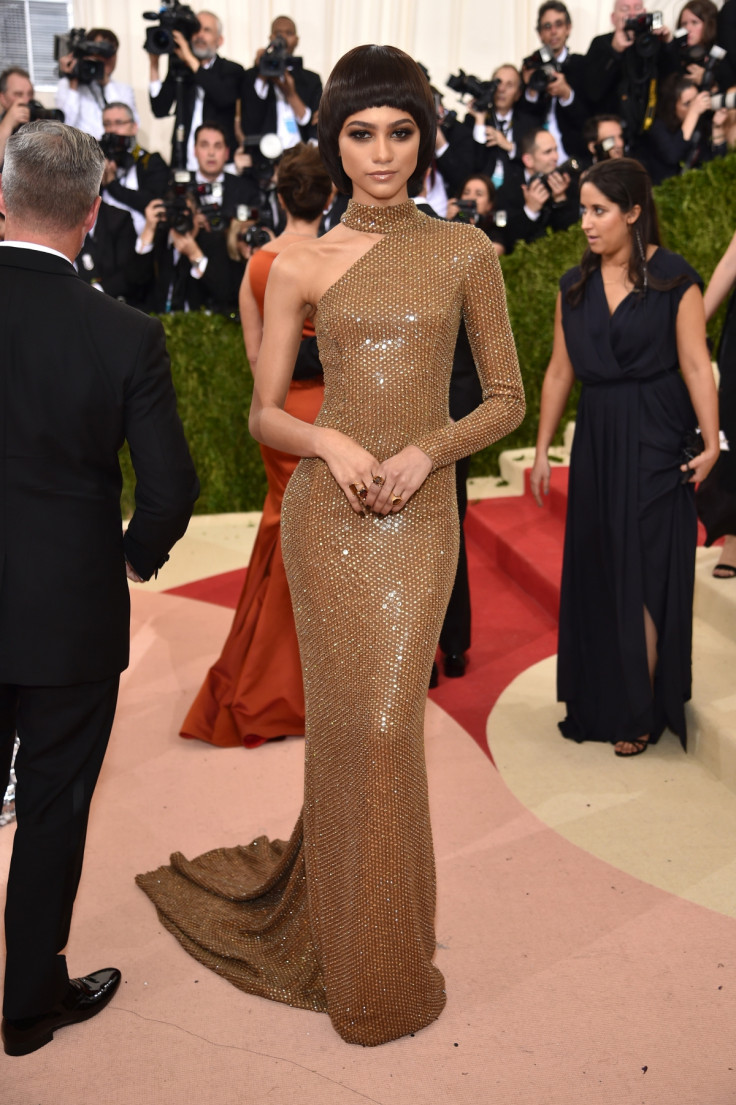 Zendaya in Michael Kors Collection
Sporting a bowl-cut wig, Zendaya showed off her lithe frame in a one-shouldered aged-gold Michael Kors gown.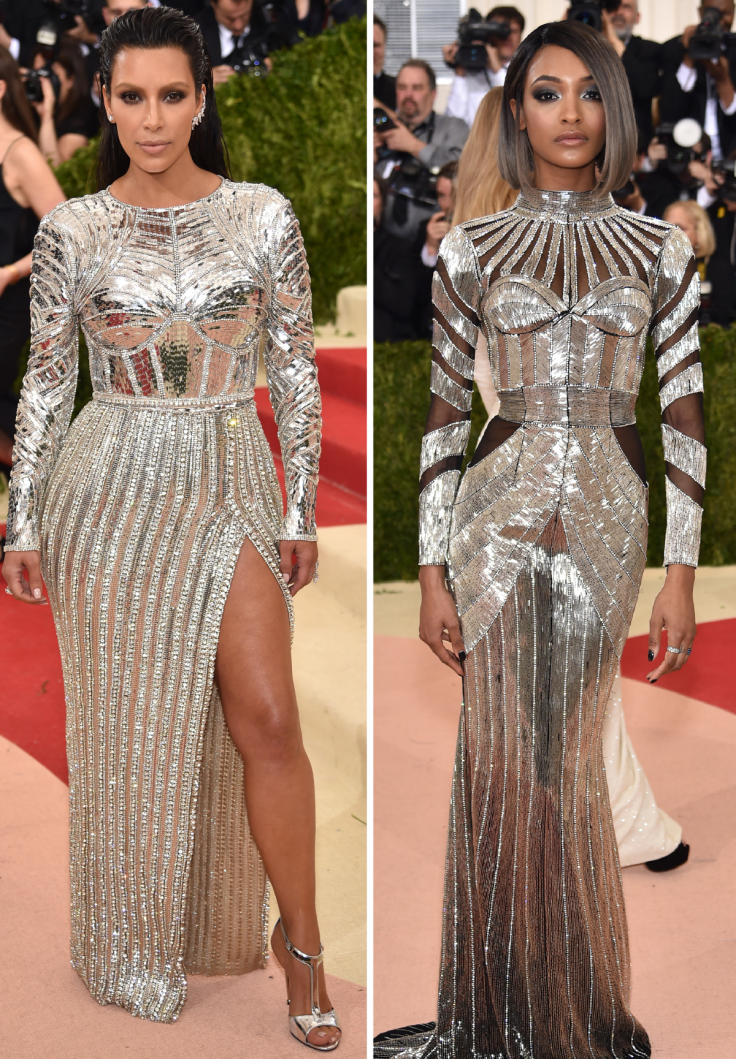 Jourdan Dunn and Kim Kardashian West in Balmain
Balmain took the theme of the evening very seriously as was evident by the dresses worn by Jourdan Dunn and Kim Kardashian. While Dunn's silver sequined and black sheer outfit showed off her petit figure, Kardashian's rhinestone and polished silver and rhinestone down did little to hide her curves.
Emma Watson in Calvin Klein
The Harry Potter actress oozed sophistication in a black and white off the shoulder CK "trousered" gown which showed off a tiny bit of skin at the hips and went on to fold and pleat its way into a severe trail.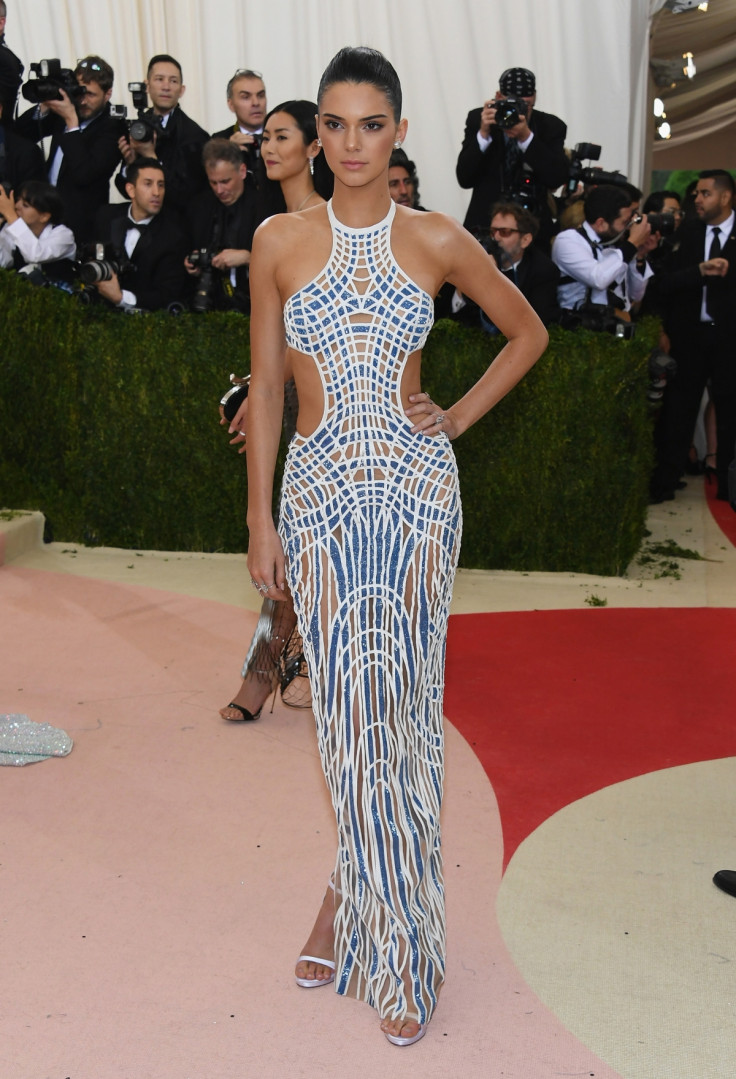 Kendal Jenner in Versace
Side cuts continue to be a fashion trend as seen once again with Kendal Jenner's Versace blue white and nude dress. The gown managed to look stylish and somehow reminded us of a circuit board as well.