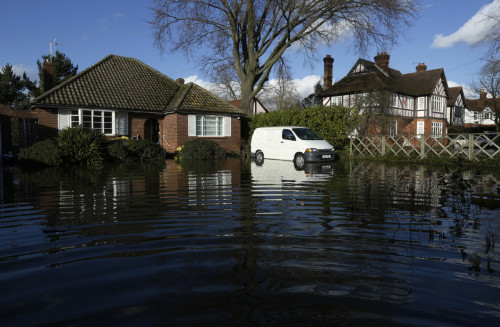 The UK Met Office has issued a weather warning for strong winds and heavy rains across much of the country even as southern England is facing severe flooding.
The stormy weather has already claimed a life after a building fell on a car in central London, the Sky News reported.
An amber weather warning for gales on Saturday remains in place for east of England and southeast and southwest of the United Kingdom, as well as parts of the south east and East Anglia, including London.
A further period of very strong winds is expected across southern and south eastern counties with gusts of 60 to 70mph. Gusts of up to 80mph is expected in some isolated areas along the most exposed parts of the south coast.
People in the regions with amber warning should be prepared for change in travel plans, damage from severe weather and coastal flooding coinciding with high tides.
"The public should be aware of the potential for disruption to travel as well as trees being uprooted and perhaps damage to buildings," the Met office said in a statement.
"The very strong winds will be accompanied by large waves along the south coast and the public should also be aware of these potentially dangerous conditions and also the possibility of coastal flooding."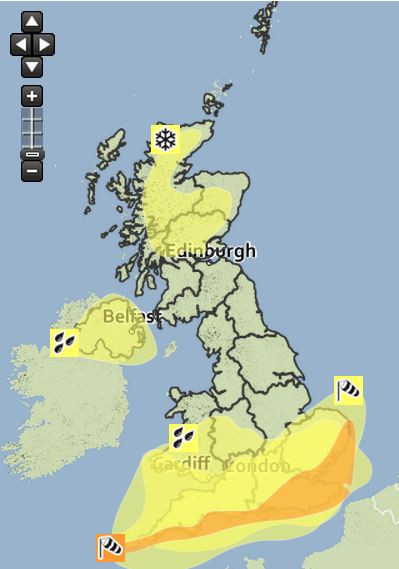 Yellow warning
A yellow alert is in place for heavy rain and snow in southern England, Northern Ireland and Wales.
The regions likely to be affected are: Central, Tayside and Fife, east and west Midlands, east of England, Grampian, Highlands and Eilean Siar, London and southeast England, southwest England and Strathclyde.
"Yellow means keep an eye on the latest forecast and be aware that the weather may change or worsen, leading to disruption of your plans in the next few days," the Met office explained.
There is no warning for ice or fog in any region, the Met Office said.