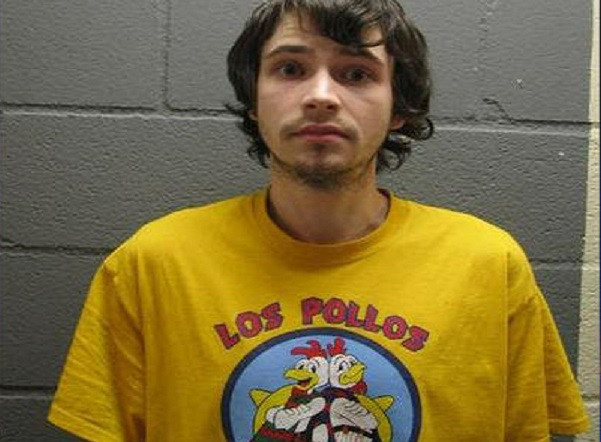 A man alleged to have cooked up illegal drugs at a home lab seems to have been inspired by the smash-hit TV series Breaking Bad.
Daniel Kowalski, 21, was wearing a bright yellow shirt with a glaring reference to the hit TV series on it when arrested by police in the United States.
The slogan and logo on the garment was 'Los Pollos Hermanos' - a reference to the chicken shop 'front' used by the drug baron who employs home methamphetamine chemist Walter White in the hit series.
Police raiding Kowalski's house in Chicago found evidence of drug production including chemicals, burners, beakers and a cookbook for illegal drugs.
But Kowalksi appears to be no mastermind in the mould of White or his boss Gus Fring because this was his second police bust in less than 12 months.
Kowalksi was charged with possessing methamphetamine manufacturing equipment, methamphetamine precursors and drug paraphernalia.
A stash of magic mushrooms which cause long hallucinogenic trips were also recovered from the property.