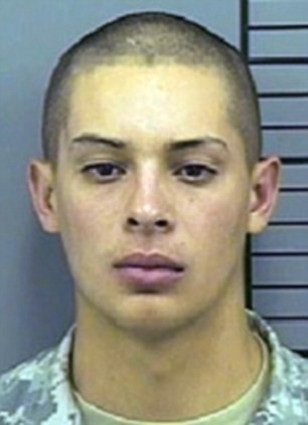 US soldiers are being hired as assassins by Mexican drug cartels in exchange for thousands of dollars.
Servicemen with combat experience are touting their specialist skills and training to perform hits for drug gangs, and in one case offering to train gang members.
"The cartels operate like corporations. They have the money to go out and hire the talent they need to get the job done," Ricardo Ainslie, author of The Fight to Save Juarez: Life in the Heart of Mexico's Drug War told the New York Daily News.
"They are very aware of how highly trained the US military is and that the skills they've learned in the military don't readily translate to civilian life," he said.
Last week, 22-year-old Michael Apodaca, a former private first class at Fort Bliss in Texas received a life sentence for the 2009 murder of Jose Daniel Gonzalez-Galeana, a member of the notorious Juarez cartel who had been outed as an informant for the US Immigration and Customs Enforcement agency (ICE).
A court heard that the Juarez Cartel paid Apodaca $5,000 for performing the execution, in a wealthy area of the Texan town El Paso, only doors away from the home of the local police chief.
"We have seen examples over the past few years where American servicemen are becoming involved in this type of activity," Fred Burton, vice president for STRATFOR Global Intelligence told Fox News. "It is quite worrisome to have individuals with specialised military training and combat experience being associated with the cartels."
Last September, two military personnel stationed at Fort Carson in Colorado pleaded guilty to conspiracy to commit murder-for-hire after not just offering their services as killers but also military equipment and training to US Federal agents posing as members of the Los Zetas cartel. The Zetas cartel was itself formed by renegade Mexican special forces soldiers, some of whom received training in the US.
Kevin Corley, 29, a former active-duty Army first lieutenant from Fort Carson in Colorado, pleaded guilty in federal court in Laredo, Texas, to conspiracy to commit murder-for-hire and sentenced to 10 years in prison.
Army Sgt. Samuel Walker, 28, was found guilty of conspiracy to commit murder-for-hire and received a 15 year sentence.
Police believe that the precision of the murder of Juan Guerrero-Chapa, a former lawyer for the Gulf Cartel who was gunned down in a Fort Worth parking lot earlier this year indicates that the killers may have had military training.
According to the FBI, criminal gangs, many of which are contracted to perform executions for the cartels, send members to join the military in order to make use of the specialist skills they have gained in training.
Recent figures from the FBI show that 53 criminal organisations have members who had served in the military. They include the MS 13, Latin Kings, Crips, Bloods and Barrio Azteca.
"There has been a persistent gang problem in the military for the past six to eight years," Burton said, with experts warning that the temptation to accept cartel cash was too strong for poorly-paid recruits struggling to find a market for their skills in the limping US economy.
The fee Apodaca was paid by the cartel was nearly three times his monthly pay, and Walker and Corley were demanding $50,000 and drugs to perform their hits.
"War is war," said author and documentarian Ainslie. "And somebody needs to do these (killing) operations. Afterwards, some lose their moral compass. They can't see where the line of necessary use of violence falls between good and bad."
The US Army has recently tightened recruitment criteria, vetting applicants' background for gang ties and rejecting any with gang-related tattoos.
Though murder rates have fallen since president Enrique Pena Nieto took office last December, the drug wars in Mexico are still believed to claim about 1,000 lives a month.