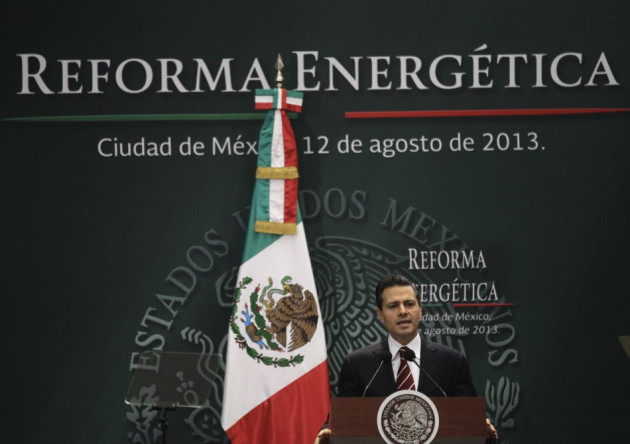 Mexico is considering signing a bill that would allow output sharing and licenses for outside oil producers, ending the Latin American government's 75-year monopoly in the sector.
Mexico's senate committee voted in principle to approve a bill that would allow oil giants such as Exxon Mobil and Chevron to develop oil fields in the country, which has the largest unexplored crude area after the Arctic Circle. Mexico is currently the tenth largest oil producer in the world and its oil industry is worth $95bn (£58bn, €69bn) per year.
The senate announced the bill on 7 December, ending four months of political dispute between the ruling and opposition parties that had different views on the proposal.
The passing of the bill will require two-thirds majority in both houses. It will amend the charter of the country to allow private and foreign players to produce oil for the first time in 75 years.
Monopoly
Mexico's oil industry has been closed to private and foreign players, as the constitution makes it illegal for anyone but the state-owned Petroleos Mexicanos to own a single barrel of oil. In 1938, then Mexican President Lazaro Cardenas nationalised the oil industry, accusing foreign companies of looting the country's wealth.
While the country has a vast area of untapped oil resources, Petroleos Mexicanos experienced a fall in production over the last eight years. The country was producing 3.8 million barrels of oil per day at peak production in 2004. However, production has recently declined below three million barrels, according to the US Energy Information Administration.
With the involvement of foreign players, oil production is expected to rise to three million barrels per day by 2018 and 3.5 million barrels per day by 2025. Meanwhile, natural gas production is expected to increase to 8 billion cubic feet by 2018 and 10.4 billion cubic feet by 2025.
Along with reversing production losses, the government estimates an improvement in gross domestic product by 1 percentage point by 2018 with the landmark bill.
Licenses granted to private companies would allow them to manage oil directly, in contrast to an initial profit-sharing model proposed by the government. The bill would enable companies to log crude reserves as assets for accounting purposes.
The bill also proposes to form a sovereign fund that would manage profits from the oil sector. The fund will be operated as a public trust by the country's central bank.