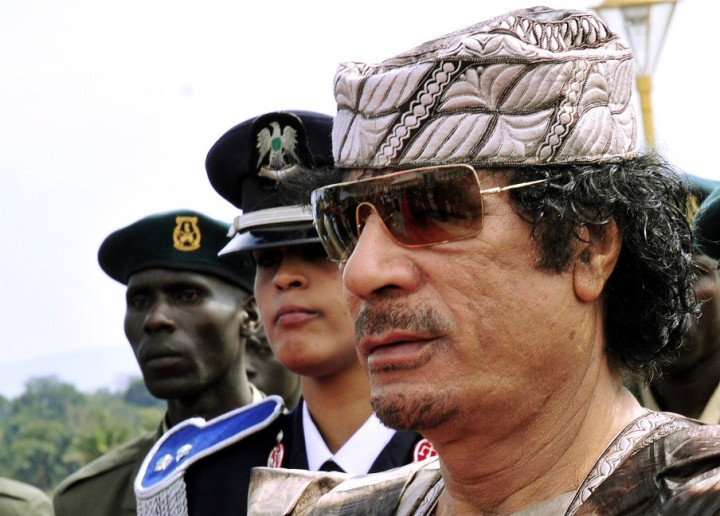 MI6 put plans in place to help Colonel Muammar Gaddafi escape from Libya during the country's civil war, journalist Matthew d'Ancona has said.
The British government devised top-secret plans to allow Gaddafi to flee to another African country not subject to international law, in an attempt to fashion a possible solution to the conflict.
The plans were revealed by d'Ancona in his new book, In It Together, which will be serialised in the Daily and Sunday Telegraph.
The journalist dedicates a chapter to the Libyan crisis, saying Andrew Mitchell was ordered to build covert contacts with leaders in Equatorial Guinea.
MI6 was prepared to move Gaddafi to the west African country if it could secure a deal to end the conflict.
"There were signs that the Colonel might accept some form of internal exile - as long as he were allowed an adequate protection force to ensure his security. Not surprisingly, this was dismissed as impractical" d'Ancona said.
"[The Cabinet Office and MI6] prepared an exit strategy for Gaddafi in case it was necessary to strike a deal and to end the conflict."
Retirement home
According to d'Ancona, Mitchell helped to make contact with officials in the capital of Equatorial Guinea, which had been "chosen as a prospective retirement home" for the dictator, with the journalist describing it as "oil-rich but awesomely corrupt".
The MI6 plan was never executed as Gaddafi was killed by rebels as he tried to flee Sirte in October 2011. He is believed to have been stabbed with a bayonet after his 50-car convoy was attacked by Nato planes and rebels on the ground. Reports suggest he was heading to the border of Niger.
Earlier this year, it was reported that Silvio Berlusconi ordered Italian secret services to kill Gaddafi a few months before the dictator was killed.
A source close to Italy's defence and security appartus told newspaper Il Fatto Quotidian that the then-prime minister requested his death, asking: "Can you gun down Gaddafi?"
"It is possible [the reports may have been true]. Berlusconi was worried, as he might have faced some difficulties because he was considered as too close to the Libyan leader," Italy's former defence minister and Berlusconi's ally Ignazio La Russa said.